CAN I BE OF ASSISTANCE?
Shut it!
Thursday, January 31

Daily News Stuff 31 January 2019
Tech News
Social Media News
Upset that Facebook are getting all the publicity lately, Google turns out to also have a privacy-busting iOS app that paid teens to spy on them. (Tech Crunch)

Remember how I said that some VPNs are actually worse than no VPN? Well, that includes Facebook and Google.

Google were at least up-front about exactly what their dodgy app was doing, but that doesn't make it less dodgy.


Apple has yanked Facebook's Enterprise Certificate over this nonsense, and may do the same to Google.

Remember, Google controls the competing platform to iOS.


Some Android camera apps are also up to no good but at least they're not official apps from Google. (Bleeping Computer)


The EU is still at it, forging ahead with legislation that would require anyone (literally anyone) to take down content judged to be supportive of terrorism within one hour of notification by any law enforcement organisation anywhere in Europe. (TechDirt)

Fortunately, if things go to plan this shortly will not include the Online Limerick Control Directorate at Humberside Police. (The Telegraph)


1. Got a call from Director, saying cops wanting to speak to me. He'd had sense not to give out my number, but said he'd pass on details. I rang.

— Harry The Owl - Limerick Criminal (@HarryTheOwl) January 23, 2019



Google+ is shutting down on April 2. (Tech Crunch)

This has already started biting us at my day job. We accept OAuth logins via Google (and others) and that API is being very rapidly deprecated.


Say what you like about Ursula K. Le Guin, she didn't didn't use a shrinkwrap contract to sign her readers up to self-flagellation classes. (Shoplifiting in the Marketplace of Ideas)
Picture of the Day
Embrace the healing power of blep.



Video of the Day
Embrace.
Well, okay, that was more of a mlem.
Disclaimer: Any reproduction, retransmission or rebroadcast without the expressed, written consent of Major League Baseball is strictly prohibited.
Posted by: Pixy Misa at 10:15 PM | No Comments | Add Comment | Trackbacks (Suck)
Post contains 851 words, total size 8 kb.

YouTube Is A Cow
I might start putting videos below the fold. The main page is getting really slow to load.
The new design (
early preview
) will fix that because you'll need to click on articles to open them, so videos won't pre-load.
Update: The new design loads instantly, but when you click to view an article, every video on the page, including all the hidden ones, tries to load simultaneously. Ugh.
Posted by: Pixy Misa at 12:15 AM | No Comments | Add Comment | Trackbacks (Suck)
Post contains 72 words, total size 1 kb.
Wednesday, January 30

Daily News Stuff 30 January 2019
Tech News
Social Media News
Facebook has been paying teenagers so it could spy on them. (Tech Crunch)

Over 18, that's one thing. If an adult says "You pay me, I let you see my data", that's a valid transaction. Under 18, go directly to jail. Do not pass Go.

Tech Crunch has all the details - they've done some great work on this story - and it looks like Facebook

seriously

fucked up here.
Anime Op/Ed of the Day
Video of the Day
Picture of the Day
Don't worry, he only eats vegetarians.
Disclaimer: Not to be taken internally.
Posted by: Pixy Misa at 08:07 PM | No Comments | Add Comment | Trackbacks (Suck)
Post contains 323 words, total size 3 kb.
Tuesday, January 29

Daily News Stuff 29 January 2019
Tech News
Social Media News
Picture of the Day
Bonus Picture of the Day
Disclaimer: No entry except tram.
Posted by: Pixy Misa at 04:15 PM | Comments (5) | Add Comment | Trackbacks (Suck)
Post contains 860 words, total size 9 kb.
Monday, January 28

Daily News Stuff 28 January 2019
Tech News
Social Media News
The dark night of fascism is always descending in the United States and yet lands only in Europe.



Or in this case, Cameroon. (TechDirt)

The Cameroonian military is jailing journalists for publishing fake news. Much as I'd like to see the mainstream media dropped into a supermassive black hole, I don't want to see them

in jail

.


More GDPR bad news may be on the way for Google. (Tech Crunch)

Hmm.
Anime Op/Ed of the Day
Speaking of anime,
Re:Slime
is pretty good, but the ops and eds are not. They needed Megumi Hayashibara.
Video of the Day
This video is pretty cool, shame about the encoding quality. Hey, wait. (Whacks YouTube with a stick. Coughs up 1080p60.) There you go!


Update: And it went away. The entire account got splatted. Found another copy in 720p.
Bonus Video of the Day


Other Linus has been trying to build a six-user video editing workstation for months, not because it is in any way remotely practical or cost-effective, but because videos of computers failing in interesting ways get a lot of hits. Also, he has a habit of dropping fragile $7000 components, so these things can turn without warning into the IT crowd equivalent of a slasher film.

Does he succeed this time? It's worth a look, because this rig resembles Doc Brown's workshop more than it does the usual neat RGB-lit builds that feature on YouTube tech channels.
Posted by: Pixy Misa at 11:35 PM | No Comments | Add Comment | Trackbacks (Suck)
Post contains 597 words, total size 6 kb.

Work In Progress
You can see it live
here
.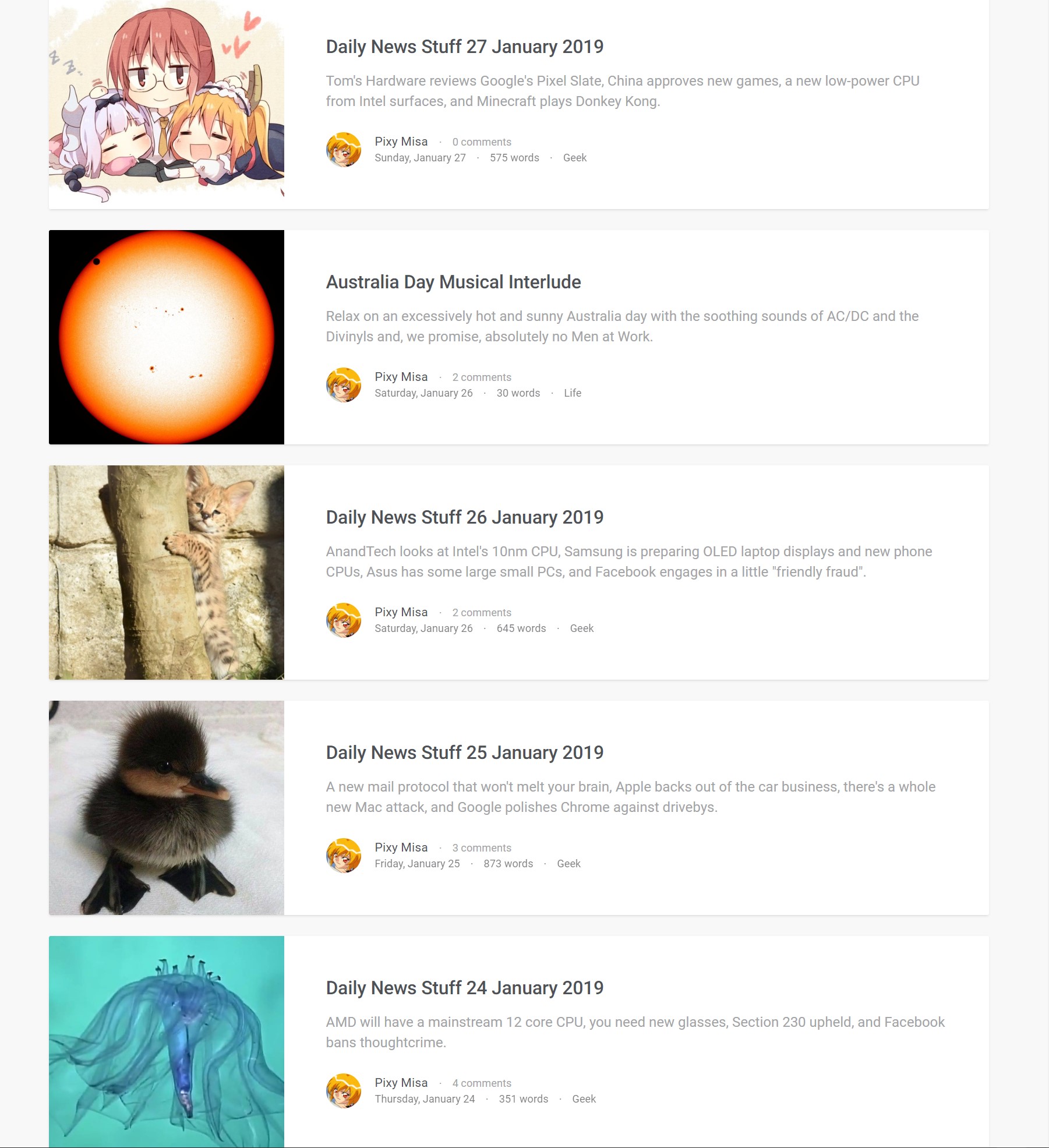 Posted by: Pixy Misa at 03:40 PM | No Comments | Add Comment | Trackbacks (Suck)
Post contains 9 words, total size 1 kb.
Sunday, January 27

Daily News Stuff 27 January 2019
Tech News
Social Media News
We need a word for that feeling you get when you're reading an article that is really getting stuck in to Facebook for their shady activities and and are just about to post a link to it when you realise the author is a hard left conspiracy nut.


New York's Governor Andrew Cuomo was apparently sick the day they covered the Bill of Rights in Clown College. (TechDirt)


Let's make assaulting the press a felony in New York State. Last year saw heinous and deadly attacks against members of the press, journalists must be protected from the threat of physical harm for just for doing their jobs.

— Andrew Cuomo (@NYGovCuomo) January 16, 2019
Anime Op/Ed of the Day
Let's dig up a few OVA classics today, shall we?
Picture of the Day
[Goes to upload a picture. Where is my Images folder? WHERE IS MY IMAGES FOLDER? Oh, it's right there. WHY CAN'T I UPLOAD TO IT? Don't look at me, you wrote this thing. Oh, huh. If you reduce your site's main page from 10 posts to 5 because of the number of YouTube videos you've added, it has the side-effect of reducing the number of folders shown per page as well. Which is fine except when it comes to that dropdown list.

I can fix that in the template with a hard-coded limit of 1000 or something.]
Disclaimer: Doggone it Roy Gene, how many times do I have to 'splain it to you? When I tell you to put a rock under the wheel, I mean a

rock

. Now look at that what you have there is no bigger'n a grapefruit.
Posted by: Pixy Misa at 05:42 PM | No Comments | Add Comment | Trackbacks (Suck)
Post contains 575 words, total size 6 kb.
Saturday, January 26


Daily News Stuff 26 January 2019
Tech News
Intel's single functional (mostly) 10nm CPU gets reviewed. (AnandTech)

And when I say

reviewed

I mean it - 14 pages, and some of the individual pages would make Tolstoy blush.

Quick summary though:

Eh.




Samsung has a 15.6" 4k OLED laptop display on the way. (AnandTech)

100% DCI-P3, 600 nits, HDR10, and a 120,000:1 contrast range are the key points, all areas where OLED has a huge advantage over LCD. I have three high resolution laptops (one Dell 4k and the two 3000x2000 HP models I picked up at fire sale prices last year) and they're great, but the Dell is neither particularly bright nor possessed of an especially impressive colour gamut.

How well Samsung has dealt with the problems specific to OLED we have yet to see. These should start appearing in laptops around the middle of the year, but it might be wise to hold off for a bit if you're spending your own money.


Intel's volumes are down but average selling price is up, suggesting that this is not part of an economic downturn, but rather AMD nibbling away at their low end products. (Tom's Hardware)

This holds true across the board - notebooks, desktops, and servers.


Samsung is forging ahead with its full-custom Arm chips. (WCCFTech)

The new Exynos 9820 will feature two of Samsung's M3 cores, as well as two A75 cores (which were the high-end standard core until recently) and four A55 low-power cores.

The previous 9810 had some design issues that prevented it from living up to its potential, so it will be interesting to see how Samsung fares this time around. Neither Arm themselves nor companies like Qualcomm seem to be interested in chasing Apple in the high-performance wide-issue full-custom space, leaving Samsung alone, apart from companies like Fujitsu who are putting Arm into supercomputers and would set your pocket on fire if they got anywhere near the smartphone market.


Asus' VivoMini VC65-C1 is a small - bigger than a NUC, but still small - PC that can play 4K Blu Ray disks. (AnandTech)

Up to 6 cores and 32GB RAM (maybe 64GB or even 128GB depending on stuff), one M.2 slot and two 2.5" drive bays. 8" square and 2" tall. Oh, and no external power brick - it has direct AC in.




Websocketd lets you turn absolutely anything into a websocket server.

Awk? Snobol? Fortran IV? No problem!

Mind you so does Caddy so it's probably best just to use that. The author of Caddy mentioned that he got the idea for that feature from Websocketd.

Websocketd GitHub.


Badger is an LSM database library with built-in versioning. Versioning is used in transaction management, with stale versions normally getting eliminated once a new transaction is committed, but Badger allows you to keep them around and query them.

Want to see the last five versions of that post you just accidentally overwrote?

[This never happens - Ed.]

Badger can dig those out for you.

Badger GitHub.


The Microsoft 365 online service has been renamed to Microsoft 363. (Bleeping Computer)

Oops.


The full specs for Motorola's upcoming G7 range have been leaked. By Motorola. (CNet) [Warning - autoplay video with sound]

Oops.
Social Media News
Court documents show that it wasn't just a couple of individuals in customer support denying refunds to under-age purchasers of in-game items, it was Facebook corporate policy. (Reveal)

They even had a term for it: Friendly fraud.

This is not going to go well for Facebook.


Need to get your blep and blop fix in one convenient place? Pro tip: You can combined subreddits with a + to create instant custom multireddits.

https://www.reddit.com/r/Blep+blop/
Video of the Day
Anime Op/Ed of the Day
Pictures of the Day
Posted by: Pixy Misa at 03:05 PM | Comments (2) | Add Comment | Trackbacks (Suck)
Post contains 645 words, total size 7 kb.
Friday, January 25

Daily News Stuff 25 January 2019
Tech News
Social Media News
The Huffington Post just laid off their entire opinion section. (CNN)

All together now:

Isn't that everything they do?




BuzzFeed meanwhile is laying off 15% of its employees. (CNN)

The truly shocking thing here is that BuzzFeed has 1450 staff. Doing

what?

Posting "10 reasons why your cat may be an alien" and "Donald Trump takes orders from Mars and we have the documents to prove it (in Martian)"?


Why is all this happening? Newspapers have been in decline for forty years and their responses to this decline have been to make themselves more and more isolated, irresponsible, and unreliable, and to blame everyone else for their own failings. The thread is a fascinating mix of historical fact and wilful ignorance. But it can be summed up in one picture.



Not that newspapers were ever trustworthy, on the whole. The ghost of William Randolph Hearst is laughing heartily.



Video of the Day
Gawker is gone. Again. It lasted six and a half minutes this time.



Bonus Video of the Day
Does it spark HONK?
Wait, Alex is Australian?
Anime Op/Ed of the Day
Some people look at old anime that has been remastered in 1080p and ask why.

Fair enough.
I was planning to do Magic Knight Rayearth, but the HD clips of the season one opening have been stomped.
Well, okay.
One more, unrelated.
Picture of the Day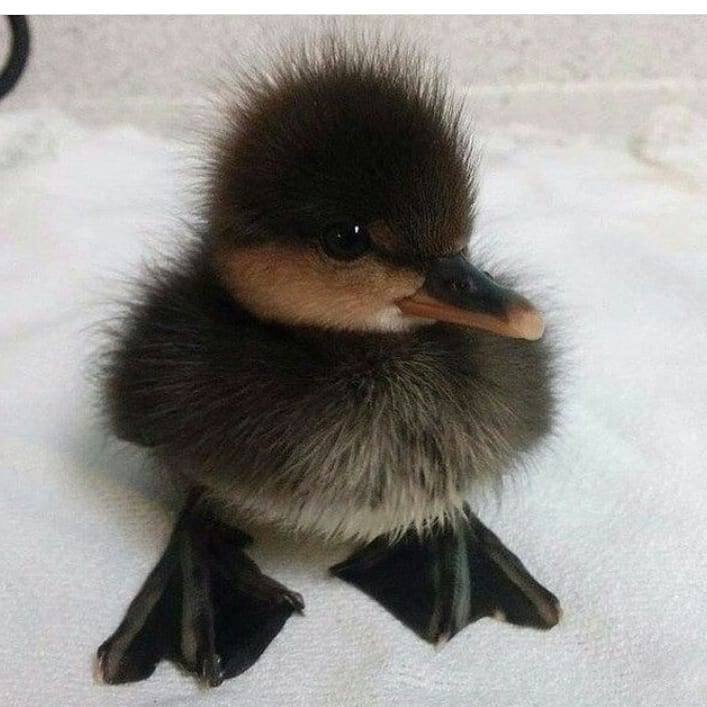 Quack.
Disclaimer: So, logically--
- If she weighs the same as a duck...
- she's made of wood.
- And therefore?
- A witch!
Posted by: Pixy Misa at 09:24 PM | Comments (3) | Add Comment | Trackbacks (Suck)
Post contains 873 words, total size 9 kb.
107kb generated in CPU 0.0379, elapsed 0.2358 seconds.
54 queries taking 0.2063 seconds, 363 records returned.
Powered by Minx 1.1.6c-pink.