And PB, you're like a bazillion years old. You're not freaking 19, what the heck?
Saturday, March 08

Licensed To UI
For about a year, I've been looking for themes to license for mee.nu. I need a blog theme and a control panel theme*, and I need them to be clean, easily integrated, and based on a robust framework Bootstrap rather than some random assemblage of PSDs.
Themes like this are readily available and typically cost $10-$20...
Per web site.
Extended licenses for developers run into hundreds or thousands of dollars. About this time last year, I found a blog theme that I was pretty happy with, and then, before I could actually buy the extended license needed, the store selling it change their license terms so that I couldn't use it anyway.**
Anyway, last year was kind of a mess and little progress was made. Last week I was poking around the theme stores again, and I found this little puppy:
Nice, clean, simple design. It had only been out a couple of weeks and had already had an update adding new features. It had the double menubar I need (so that I can have a mee.nu menu and a site menu), and a good selection of page templates.
And it cost $100. For the
extended
license. The one I'd been looking at last year was $850; others have been well over $1000.
It will take a while to transmogrify it into the new mee.nu theme, but right now my version looks something like this: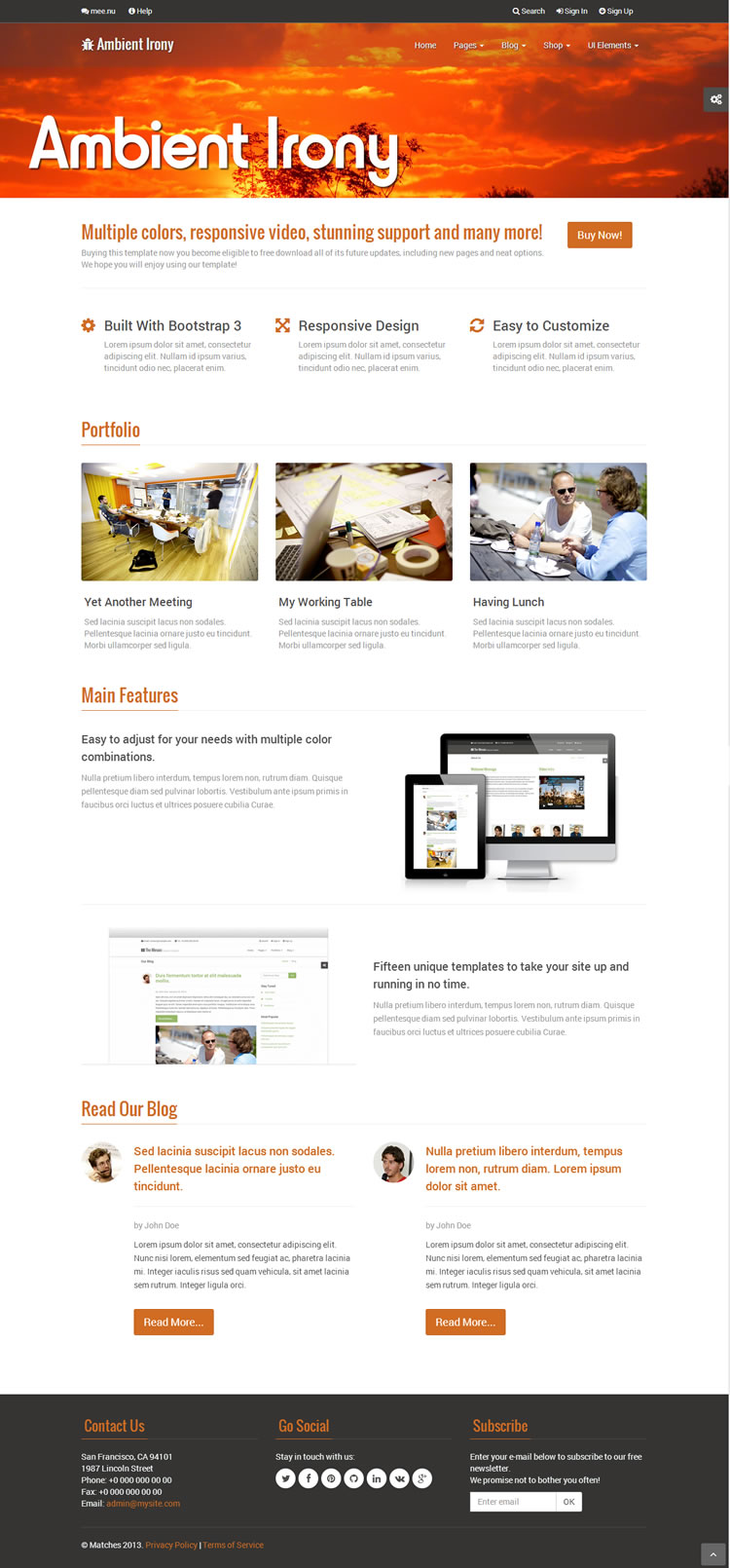 I still needed a control panel theme. Again, there's no shortage of these, but they cost $500 and up. Sometimes very up. Except on the same day I found one called
Lanceng
. which wasn't quite what I was after and would take some work to tidy up (it's a bit noisy, visually), but was $50 for the extended license: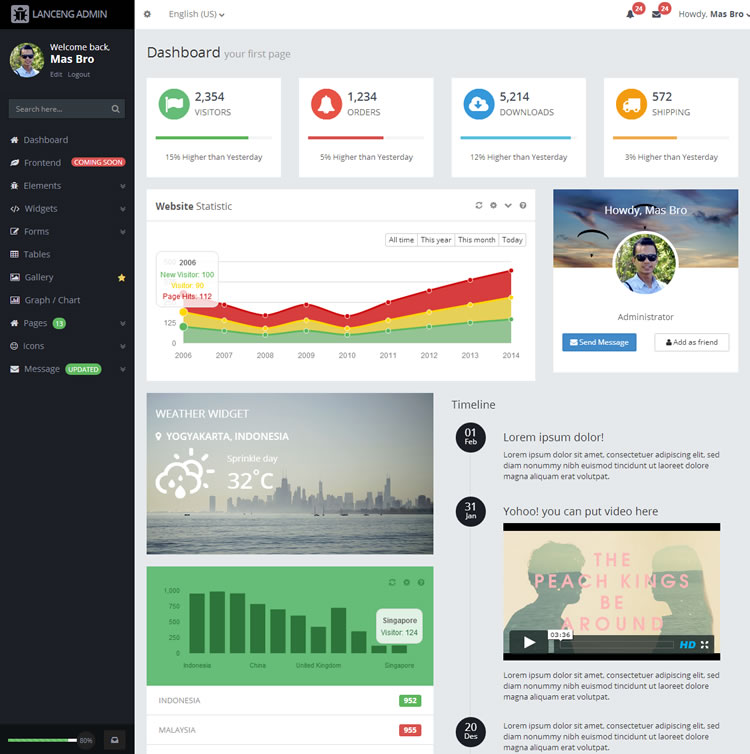 So I was set. And then, last night, I found
SpaceLab
, visually clean and $100 for the extended license: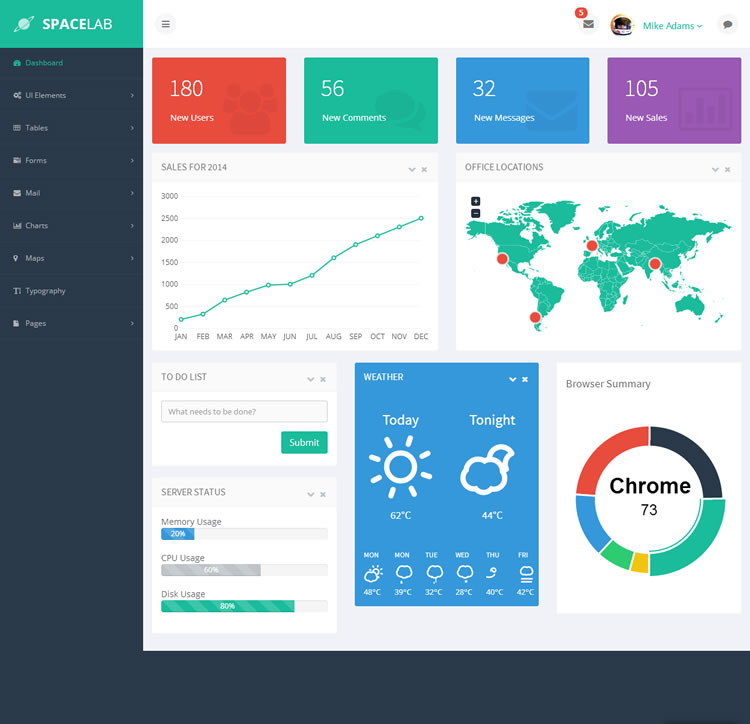 Now
I'm set. I just need to smoosh them all together somehow...
* And maybe some others, but that's the basics.
** They originally had a clause specifically allowing online services like mee.nu. They replaced it with a clause specifically disallowing online services like mee.nu. There's a loophole in the new terms that I could wriggle through, but I'm not interested in going there.
Posted by: Pixy Misa at 02:21 PM | Comments (1) | Add Comment | Trackbacks (Suck)
Post contains 388 words, total size 3 kb.
Tuesday, February 04

Meegrating
I'm planning to move mee.nu across to a new server next weekend. I'll post details in the next couple of days, but be prepared for some site wonkiness in the small hours of Sunday morning. (Which is Sunday afternoon for me in Australia, so it works well for most of us.)
New server is cheaper and faster (for most things), has more memory, and a lot more SSD. Only has software RAID, but it's RAID-1, which is pretty reliable, and with the new config we have a separate dedicated backup server.
Posted by: Pixy Misa at 01:51 PM | Comments (4) | Add Comment | Trackbacks (Suck)
Post contains 92 words, total size 1 kb.
Sunday, February 02

Oops
Overrun by log files.
Fixed now.
Sorry.
Posted by: Pixy Misa at 09:38 AM | No Comments | Add Comment | Trackbacks (Suck)
Post contains 9 words, total size 1 kb.
Friday, January 03

Monday, November 18

Ceci N'est Pas Une Post
Just testing, nothing to see...
Posted by: Pixy Misa at 09:33 AM | No Comments | Add Comment | Trackbacks (Suck)
Post contains 10 words, total size 1 kb.
Thursday, November 14

Quick Site Note 2
Load on the server is up with some more sites coming over to Minx; I've assigned more CPU resources to the application, and allocated more threads to the proxy. We're still peaking at only about 40% of server capacity (plus we have a spare server sitting idle right now), so this not an issue; I just needed to reconfigure the virtual machines to better allocate the hardware resources.
It looks like the proxy was the main problem - when it ran out of threads it would simply drop the HTTP connection. And I haven't updated the config in two years - the proxy had been running without interruption all that time.
Also, I've installed Redis for improved element caching; I'll bring that into production this weekend.
Update: Redis deployed! Works nicely. I was using in-process caching before, and with lazy key evictions and the increased number of worker processes, that was using up a fair bit of memory for a so-so hit rate. Redis works
much
better.
Posted by: Pixy Misa at 03:37 PM | Comments (12) | Add Comment | Trackbacks (Suck)
Post contains 171 words, total size 1 kb.
Saturday, November 09

Quick Site Note
I've enabled applet caching in Minx - what this means is that things like archive lists and recent comments might not update immediately, but will be cached for up to 60 seconds. This is a big speed improvement on large and busy sites, reducing page load times in one case from 1.8 seconds to 36 milliseconds.
It seems to be working well, but if you see anything odd, let me know.
Posted by: Pixy Misa at 03:23 AM | Comments (9) | Add Comment | Trackbacks (Suck)
Post contains 74 words, total size 1 kb.
Saturday, July 21

Proves The Rule, I Guess...
If you want comments on your site, post something wrong.
Anyway, to those who haven't visited before: Welcome, and yes, I know that WWI was basically a family feud among Queen Victoria's grandchildren, and that The Molotov-Ribbentrop Pact would be a good name for a rock band.
Ancient Chinese history I'm less reliable on, so if you want to take up a discussion of the
Yellow Turban Rebellion
in my comments, go right ahead.
Posted by: Pixy Misa at 12:08 AM | Comments (4) | Add Comment | Trackbacks (Suck)
Post contains 79 words, total size 1 kb.
Sunday, February 05

Design Refresh
I'm doing a new design for the next version of Minx, based on the
960.gs
/
Skeleton
/
Bootstrap
CSS layout libraries.*
The rounded corners are likely to go at this stage; form design will improve, and blogs will resize (at least in theory) to fit your device, but in discrete steps rather than one pixel at a time.
The idea is that you'll choose a 12- or 16-column layout, and then assign a certain number of columns to each element on the page, so you might choose 12 columns, and allocate 8 to the content and 4 to the sidebar. But you could also have a headlines area (between the banner and the content) with three items each four columns wide.
The new base widths will be 700 pixels (for smaller devices like tablets and phones), 940 pixels (for older PCs and notebooks), and 1180 pixels (for larger screens). All of those work out evenly whether you choose a 12- or 16-column grid.
There will be a pair of new, interactive menu bars above and below your banner image, the top one for the mee.nu system as a whole, the bottom one for your site. The current ads (which I haven't sold any of yet anyway) will shrink down to fit in the top menu bar, rather than sitting above it, and will expand out on mouseover. I think that's the best compromise to make them as unobtrusive as possible while still giving advertisers a useful amount of space.
Sample Images
Update: Damn arithmetic! One problem with the above layout is that to fit ads neatly in the sidebar you'd want it to be 240 pixels wide - the same as the ad itself. But the maths just doesn't work out.
With a 940-pixel standard layout, you have 12 columns each 60 pixels wide, and 11 margins in between each 20 pixels wide. 12 x 60 + 11 x 20 = 940.
With 16 columns, it's 16 x 40 + 15 x 20 = 940.
This works because we're ignoring the rightmost 20-pixel margin - if we included that, the widths would be 720, 960, and 1200 pixels - all multiples of 240, with lots and lots of useful factors.
So if you have a 3 column sidebar in a 12-column layout, that's 3 x 60 + 2 x 20 = 220px. 4 columns in 16-col layout is 4 x 40 + 3 x 20 = 220px. Either way, too narrow for the ad. 4 columns in 12-col layout is 4 x 60 + 3 x 20 = 300px; 5 columns in 16-col layout is 5 x 40 + 3 x 20 = 280px, which leaves a fair chunk of space over.
I'm not sure how bad that will be in a live design, so I'm not going to tear up the fundamental principles of mathematics just yet. And you
could
force the sidebar into a 240-pixel layout within a 280/300 pixel division if need be, with a larger than normal gap between the sidebar and the main content.
Real-world testing is indicated here.
* Most likely Bootstrap; I had some issues with version 1.4, but the newly released 2.0 cleans up most of the things I didn't like and adds even more features.
Posted by: Pixy Misa at 10:04 AM | Comments (4) | Add Comment | Trackbacks (Suck)
Post contains 547 words, total size 4 kb.
Tuesday, August 30

Location, Location, Location
Okay, I've lined up reasonably-priced providers in the following locations:
Phoenix (2)
Dallas (2)
Atlanta
New Jersey
Chicago

Los Angeles
Fremont

I'm not sure about the company operating the Chicago and Fremont hosting - they seem to have happy customers, but they're small and operate out of Malaysia. Mind you, I'm even smaller and operate out of my living room...
One of the providers in Phoenix - I/O Flood - is also a tiny company, but they clearly know what they are doing (very active online) and their pricing is great. The other two providers have been in business for years and I've had servers with both of them previously, but they're the most expensive. (But still significantly cheaper than what I'm paying now.)
Fremont, Dallas, and New Jersey would make sense from a geographical perspective, but I really like the guys in Phoenix. Maybe Phoenix and Atlanta.
Ah, decisions, decisions.
Posted by: Pixy Misa at 10:08 AM | Comments (1) | Add Comment | Trackbacks (Suck)
Post contains 155 words, total size 1 kb.
65kb generated in CPU 0.07, elapsed 0.1185 seconds.
57 queries taking 0.0619 seconds, 207 records returned.
Powered by Minx 1.1.6c-pink.