Well that's good. Fantastic. That gives us 20 minutes to save the world and I've got a post office. And it's shut!
Thursday, April 18

Mega Phone Or Micro Tablet?
Samsung recently announced a couple of new additions to their Galaxy of Android phones (a statement that can be safely made without details because it will be as true next month or next year as it is today): The Galaxy Mega 5.8 and 6.3.
The 5.8 is of only moderate interest; it's a cheap(-ish) phone with a large (5.8") but low-resolution screen ("qHD", or 960x540), good for media consumption or people with poor eyesight (a huge market, that, not to be underestimated).
The 6.3, though, offers a 1280x720 6.3" display, 90% of the resolution of my Nexus 7 at 90% of the size. The phone itself, though, is
markedly
smaller than the Nexus 7 - 168x88x8mm and 199g vs. 199x120x10.5mm and 340g. - so 25% narrower and 40% lighter. It has almost no bezel (the Nexus 7 has quite a wide bezel on all sides), but is small enough to hold by the edges, so that shouldn't matter. (Actually, the Nexus 7 is too, barely, at least for my hands.)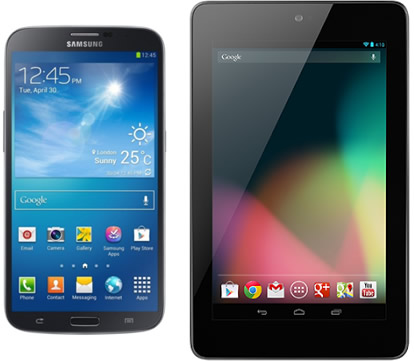 A quick mockup I made of the relative sizes of the Samsung Galaxy Mega 6.3 and the Asus/Google Nexus 7. It only approximate, but it should be pretty close.
That image is Photoshopped - well, actually, Fireworksed, as I do most of my image work in that instead - using cropped and rescaled images of the two devices. It should be fairly accurate; the screen on the Mega has a slightly higher pixel density so it's a little smaller vertically, plus noticeably narrower as it has 720 pixels vs. 800. The really dramatic difference comes from the near-elimination of the surrounding bezel.
Other hardware includes a 1.7GHz Exynos 5250 CPU (a dual-core A15), the exact same chip that powers the Nexus 10, which is much zippier in everyday use than the quad-core 1.2GHz A9 in the Nexus 7; 1.5GB RAM vs. 1GB in the 7; 8MP rear and 1.9MP front cameras vs. none and 1.2MP; but only 8GB or 16GB storage vs. 16GB or 32GB for the current Nexus 7. It also has a microSD slot supporting cards up to 64GB, which helps make up for the disappointing shortage of on-board space.
So while it's maybe an inch too far for a phone, as a small, take-anywhere tablet that has 3G/4G phone capability as a bonus, it's rather intriguing.
I'd like it even more if it had a 1080p screen and a bit more storage - even 32GB - but as it is, I'm already interested. Samsung haven't announced pricing or distribution details yet, so I'll be watching for that.
Posted by: Pixy Misa at 10:13 AM | No Comments | Add Comment | Trackbacks (Suck)
Post contains 435 words, total size 3 kb.
Sunday, April 14

Good News, Side-Scrolling 2D Science Fiction Multiplayer Sandbox Platformer Fans Edition
Starbound has opened up pre-orders! That's usually not that big a deal, but in this case (a) it's a successor to the much-loved Terraria, being put together on a tight budget by a tiny studio, and extra money now could really help make the game better, and (b) they're running with Kickstarter-style stretch goals - when they reach $500,000, for example, they'll add a new alien race. At the time of writing, they've been going for a little over a day - on a weekend, too - and have reached $370,000, so it's looking good.

Update: $500,000 reached, new race - Novakids - are in, next goal is alien fossils at $750,000.




Darkout. It's on Desura, GamersGate and Steam Greenlight. It's not pixel-art (the style of Terraria and Starbound), but it's still a little cartoonish; I think the art style works well for a slightly more serious game. Take a look at the trailer and see what you think.
Posted by: Pixy Misa at 05:46 PM | Comments (2) | Add Comment | Trackbacks (Suck)
Post contains 170 words, total size 1 kb.
Monday, April 08

Kerbal Space Program
Sorry little green dude, I haven't worked out how to attach parachutes yet. But your epic journey 440km above the surface of planet Kerbin will not be forgotten, even if we never find your scattered remains.
Update: My improved
Up Goer 2B
reached 680km and is equipped with a parachute. I just need to remember to open it around 23km of altitude....
Update: Patience and practice and lots of solid-fuel boosters, and I can now make a stable orbit fairly reliably even if my primary stage goes flaky on me. Right now I have a Munar flyby lined up - my orbit will take me close enough that I'll be pulled to within 500km of the Munar surface, before being slingshotted back into a Kerbin orbit. From there I should even have enough fuel left to deorbit and land. Here I go!
Update: A little careful nudging and I'll be coming to within
50km
5km
of the Munar surface... As long as nothing goes wrong. If something does go wrong, Cmdr. Dudsen Kerman will be the first Kerbal on the Mun. Or bits of him, anyway.
Update: Success! Munar flyby and return landing accomplished! I guess the next step will be to make Munar orbit, then break orbit and return. I want to refine my vehicle first, though, so its a bit less fally-aparty.
Posted by: Pixy Misa at 10:07 PM | Comments (9) | Add Comment | Trackbacks (Suck)
Post contains 230 words, total size 2 kb.
Sunday, April 07

Free To Good Home
Would anyone like a copy of
Civilization V
, Torchlight, or
Trine
on Steam? I just noticed that I acquired free bonus copies somehow. Also Serious Sam HD, Frozen Synapse, Cthulhu Saves the World, and Breath of Death VII.
Update: Civ V goes to GreyDuck, Trine to Wonderduck.
Posted by: Pixy Misa at 06:13 PM | Comments (6) | Add Comment | Trackbacks (Suck)
Post contains 51 words, total size 1 kb.
Saturday, April 06

Good News, Everyone
Terraria looks set to get a new update after a year in the doldrums - and it has turtles!


Torment: Tides of Numenera is closing in on becoming the best-funded computer game on Kickstarter, ever.


GOG are selling the whole suite of recent D&D computer games - Baldur's Gate 1 & 2, Icewind Dale 1 & 2, Planescape Torment, Neverwinter Nights 1 & 2, Dragon Shard, that Temple of Elemental Evil thing and Demon Stone, plus all expansion packs - for up to 80% off. $21.10 gets you the complete bundle, over 200 hours of top-notch adventuring... And 100 hours of so-so adventuring (the original campaigns of both Neverwinter Nights games are a bit stodgy, but the expansions pick up dramatically).
There's also bad news, but you can get
that
anywhere.
Posted by: Pixy Misa at 02:39 AM | Comments (1) | Add Comment | Trackbacks (Suck)
Post contains 134 words, total size 1 kb.
Tuesday, April 02

Night And Day And The Doctor
I just found nine separate Doctor Who "minisodes" that I hadn't seen before. There are five that make up a sequence called
Night And The Doctor
, plus two two-part specials, for Red Nose Day 2011 (with Amys and Rorys) and Children in Need 2012 (with Madame Vastra, Jenny, and Strax - a prequel to the Christmas Special).
You'll need to hunt around for
Night and the Doctor
- or just take the easy way and buy the DVD set, which includes it as a bonus - but the charity benefit specials are on the BBC's Youtube channel. And so:
Also:
Which might be a spoiler if you haven't seen the 2012 Christmas special.
Posted by: Pixy Misa at 10:37 PM | No Comments | Add Comment | Trackbacks (Suck)
Post contains 119 words, total size 1 kb.
64kb generated in CPU 0.03, elapsed 0.6634 seconds.
54 queries taking 0.6459 seconds, 359 records returned.
Powered by Minx 1.1.6c-pink.