Thursday, April 18

Mega Phone Or Micro Tablet?
Samsung recently announced a couple of new additions to their Galaxy of Android phones (a statement that can be safely made without details because it will be as true next month or next year as it is today): The Galaxy Mega 5.8 and 6.3.
The 5.8 is of only moderate interest; it's a cheap(-ish) phone with a large (5.8") but low-resolution screen ("qHD", or 960x540), good for media consumption or people with poor eyesight (a huge market, that, not to be underestimated).
The 6.3, though, offers a 1280x720 6.3" display, 90% of the resolution of my Nexus 7 at 90% of the size. The phone itself, though, is
markedly
smaller than the Nexus 7 - 168x88x8mm and 199g vs. 199x120x10.5mm and 340g. - so 25% narrower and 40% lighter. It has almost no bezel (the Nexus 7 has quite a wide bezel on all sides), but is small enough to hold by the edges, so that shouldn't matter. (Actually, the Nexus 7 is too, barely, at least for my hands.)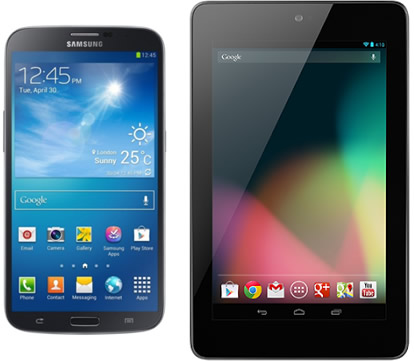 A quick mockup I made of the relative sizes of the Samsung Galaxy Mega 6.3 and the Asus/Google Nexus 7. It only approximate, but it should be pretty close.
That image is Photoshopped - well, actually, Fireworksed, as I do most of my image work in that instead - using cropped and rescaled images of the two devices. It should be fairly accurate; the screen on the Mega has a slightly higher pixel density so it's a little smaller vertically, plus noticeably narrower as it has 720 pixels vs. 800. The really dramatic difference comes from the near-elimination of the surrounding bezel.
Other hardware includes a 1.7GHz Exynos 5250 CPU (a dual-core A15), the exact same chip that powers the Nexus 10, which is much zippier in everyday use than the quad-core 1.2GHz A9 in the Nexus 7; 1.5GB RAM vs. 1GB in the 7; 8MP rear and 1.9MP front cameras vs. none and 1.2MP; but only 8GB or 16GB storage vs. 16GB or 32GB for the current Nexus 7. It also has a microSD slot supporting cards up to 64GB, which helps make up for the disappointing shortage of on-board space.
So while it's maybe an inch too far for a phone, as a small, take-anywhere tablet that has 3G/4G phone capability as a bonus, it's rather intriguing.
I'd like it even more if it had a 1080p screen and a bit more storage - even 32GB - but as it is, I'm already interested. Samsung haven't announced pricing or distribution details yet, so I'll be watching for that.
Posted by: Pixy Misa at 10:13 AM | No Comments | Add Comment | Trackbacks (Suck)
Post contains 435 words, total size 3 kb.
Comments are disabled. Post is locked.
46kb generated in CPU 0.0745, elapsed 0.1799 seconds.
54 queries taking 0.1419 seconds, 332 records returned.
Powered by Minx 1.1.6c-pink.