Friday, March 08

Top Ten TV Shows That Should Be Turned Into Kairosoft Games
Actually, I haven't come up with 10 yet, so suggestions are welcome.
Barney Miller
Life on Mars / Ashes to Ashes
Buffy
Torchwood
Stargate SG1
House
WKRP in Cincinnati (thanks Wonderduck!)
Get Smart
Thunderbirds
Murphy Brown
Wonderduck's suggestion brings to mind
Lou Grant
and
Murphy Brown
as possibilities as well.
If you haven't encountered Kairosoft, they're the creators of a line of little management sims on Android and iOS that are just insanely addictive. They actually started out back in 1996 writing games for PC and DoCoMo phones - at a time when a 320x200 phone display was pretty much state of the art. They've had something of a rebirth since porting their first game,
Game Dev Story
, to Android and iOS in 2010, where it became a bestseller.
Since then they've released 18 more games (plus two or three more that are on Android or iOS but still Japanese only), and have a catalog of 36 titles across all platforms.
And yes, I have every game they've released on Android; they're no more than $5, and good for at least 10-15 hours of play each. Some of them more; I did two full play-throughs of Grand Prix Story to unlock everything, which probably totalled 20 hours over a couple of weeks.
The general pattern set with Game Dev Story is that you run a small company, organisation, or group of some sort, and you have to hire and train staff and research technology to make better and better... Something.
Game Dev Story is almost entirely menu-driven; you can watch your people working in the office, but while this display reflects the actual progress of your game projects, it's not interactive.
Later games like Mega Mall Story, Dungeon Village, Epic Astro Story, and the recent Pocket Stables have an interactive map (or for Mega Mall Story, a cross-section view of your building).
Pocket Stables, Grand Prix Story, and Pocket Leage Story also have non-interactive contests - races and football (soccer) games; you train your players/drivers/horses as applicable and set a strategy, but once the contest starts you can't directly influence the outcome.
The games aren't hugely complex, but they are brilliantly crafted little artworks. The pixel art is just perfect, retro-stylish, adorable, and full of amazing details. I had dozens of screenshots to show this off, but I lost them all when my Nexus 7 bricked itself. Here's one, showing two of my horses leading the pack as they round the first corner:*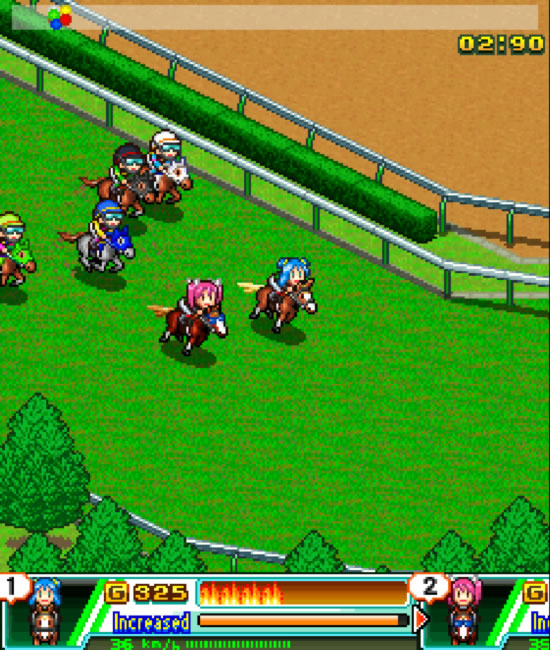 Anyway, back to the meme: It would need to be some sort of ensemble cast, albeit with a clear leader, working toward a common goal. And the less sense it would make as a management sim, the better, given Kairosoft's already quirky take on the genre.
* Why, yes, that horse is wearing sunglasses.
Posted by: Pixy Misa at 11:49 AM | Comments (3) | Add Comment | Trackbacks (Suck)
Post contains 478 words, total size 4 kb.
1
Game Dev Story is quite entertaining - good airplane game for me. More or less plays itself, I just punch a button every so often and tell it "yes, this quarter we're making a Samurai Racing game. No, figure it out!"
The girlfriend has quite a few of them and enjoyed every one she's tried.
Posted by: Avatar_exADV at Friday, March 08 2013 01:54 PM (pWQz4)
2
WKRP In Cincinnati: The Videogame. Bonus points if they get Operation Turkey Drop involved.
Posted by: Wonderduck at Saturday, March 09 2013 01:16 PM (1BL+a)
Posted by: Pixy Misa at Saturday, March 09 2013 10:10 PM (PiXy!)
Comments are disabled. Post is locked.
48kb generated in CPU 0.012, elapsed 0.0918 seconds.
56 queries taking 0.0849 seconds, 335 records returned.
Powered by Minx 1.1.6c-pink.