Sunday, April 29

Software For The Talentless Hack
I've been tinkering with
RPG Maker VX Ace
the last hour or so.* It's a system for building old-school JRPGs - think Final Fantasy III or thereabouts.
It's got the usual tools you'd expect, like a tile-based map painter, event triggers, a database where you can define characters, classes, skills, monsters, equipment and so on, and a neat little character designer that creates a portrait and matching sprite like so: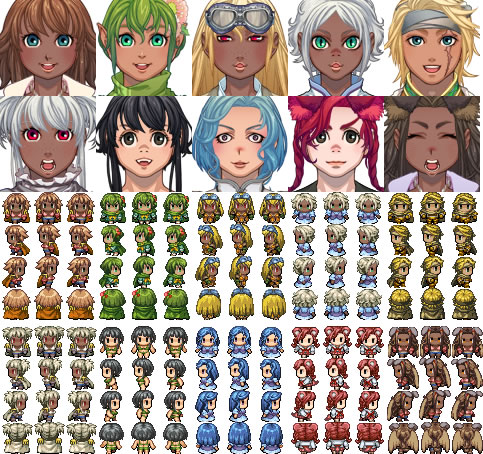 Yes, a winged bunny girl.
And it's programmable in Ruby. It doesn't have the full Ruby standard library - for good reason, because that would make it too easy for games to mess up your system - but it has the full language and a useful set of game libraries.
If you don't mind the old-school graphics, it looks like it's a very flexible system. You can alter all the standard character classes, skills, spells and so on to fit your own design, and anything you can't create directly in the game tools can be scripted in Ruby.
So if you're a programmer with no art skills to speak of looking at creating an early 90's JRPG of your own, you might want to give it a whirl.


* While waiting for

a

three

failed RAID arrays to be repaired.
Posted by: Pixy Misa at 05:58 PM | Comments (2) | Add Comment | Trackbacks (Suck)
Post contains 215 words, total size 2 kb.
1
So when should we be expecting Pixy's
Meenu: Travels Through Blogs & Space
?
Posted by: Wonderduck at Monday, April 30 2012 11:30 AM (PVVuW)
2
Depends on how many more RAID arrays fail, I guess.
Posted by: Pixy Misa at Monday, April 30 2012 03:56 PM (p0Hxa)
Comments are disabled. Post is locked.
46kb generated in CPU 0.0247, elapsed 0.1545 seconds.
56 queries taking 0.1395 seconds, 333 records returned.
Powered by Minx 1.1.6c-pink.