Sunday, November 29

Together, They Fight Crime... Or Something
Meet Strawberry and Pocky.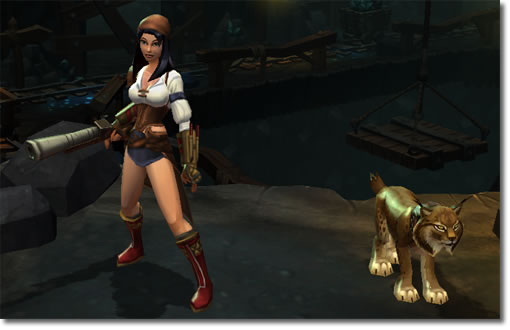 She's a crazy gun-wielding notary public. He's an endangered Iberian Lynx on the run from the mob.
Together, they blow the crap out of monsters.
Posted by: Pixy Misa at 01:16 AM | Comments (5) | Add Comment | Trackbacks (Suck)
Post contains 35 words, total size 1 kb.
1
That game looks to be a pretty blatant ripoff of Diablo, at least conceptually. They even kept the three basic character classes -- fighter, mage, archer -- and made the archer female.
Is it any good? Certainly looks like the graphics are better, and the ability to customize your character is new.
Posted by: Steven Den Beste at Sunday, November 29 2009 09:25 AM (+rSRq)
2
It's actually written by the same team that did Diablo 1 and 2.
They did another game called
Fate
in between, which is the same sort of thing.
Fate and Torchlight have randomly-generated maps, unlike Diablo, so each game is different, but the levels aren't as interesting. At least, that was true for Fate; the levels in Torchlight have been a lot more complex so far, but I think some of them are pre-made.
They've also shipped an editor for Torchlight, so there will be user-generated content.
And Torchlight is a lot of fun so far. The femal character uses guns, and has a trick where she can ricochet a bullet to hit several enemies at once. Since the game is set in a mine and you often have a swarm of monsters attacking you in a confined space, this is both effective and satisfying.
Also, you can have imaginary pets. How cool is that?
Posted by: Pixy Misa at Sunday, November 29 2009 12:09 PM (PiXy!)
3
Diablo with a high polish on it. A lot of the annoying bits of the user interface have been removed or reworked - you don't have to play backpack Tetris, for example, and piles of gold are automatically picked up just by walking by them (removing a lot of clicking!) The pet options are interesting, and the "go sell my stuff, Rover" button is great - easily eliminated half my runs back to town.
The difficulty is several steps below Diablo, though. You've got more options, to start with, as far as skill tree building and magic, and if you're even marginally intelligent you're going to get some self-healing magic as soon as possible. The game -rains- potions. Enemy difficulty is not particularly challenging except for a couple of types of enemies (though not necessarily the ones you'd think - the little tribal guys from Diablo 2 are there, but not NEARLY as annoying as they were in that game.)
Worth the $20 they're charging for it, anyway, especially if you haven't played the Diablo games in a while.
Posted by: Avatar_exADV at Sunday, November 29 2009 07:56 PM (mRjOr)
4
Yep, that's the other plus - there's definitely $20 worth of value there.
Just picked up the third Fate game too, since I had some "WildCoins" sitting around. That worked out to about $10. (The worst thing about Fate is that it's sold through WildTangent, and their game launcher thing is bloody annoying. And so is their marketing and support. Wish they could bring the three Fate games across to Steam.)
Posted by: Pixy Misa at Sunday, November 29 2009 10:12 PM (PiXy!)
5
Fate does have the backpack Tetris, by the way. But it also has the
send your pet to town
feature, so it's not too irritating.
Posted by: Pixy Misa at Sunday, November 29 2009 10:16 PM (PiXy!)
Comments are disabled. Post is locked.
48kb generated in CPU 0.0139, elapsed 0.1387 seconds.
56 queries taking 0.129 seconds, 335 records returned.
Powered by Minx 1.1.6c-pink.