Dear Santa, thank you for the dolls and pencils and the fish. It's Easter now, so I hope I didn't wake you but... honest, it is an emergency. There's a crack in my wall. Aunt Sharon says it's just an ordinary crack, but I know its not cause at night there's voices so... please please can you send someone to fix it? Or a policeman, or...
Back in a moment.
Thank you Santa.
Friday, September 30

Tap Tap On My Window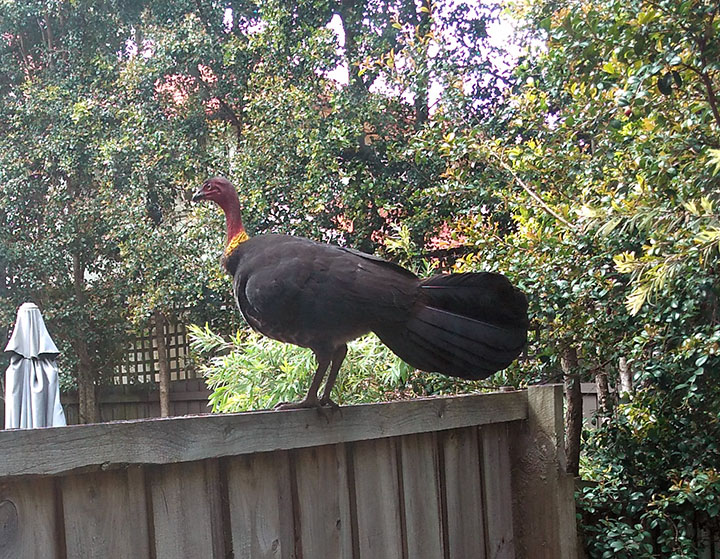 Posted by: Pixy Misa at 01:11 PM | Comments (5) | Add Comment | Trackbacks (Suck)
Post contains 5 words, total size 1 kb.
Thursday, September 29

Adopt-A-Blob
So, Android adoptable storage.
I stuck a cheap 64GB micro SD card in my Moto G4 Play, set it as internal storage, and it works. Took a few seconds to set up. Just works.
On my Sony Xperia Z3 Tablet Compact, you have to enable it via adb over a USB cable, and once you've done that, it doesn't work. Not at all. Completely bloody useless.
The only thing wrong with the tablet is the limited internal storage, Google handed them a solution on a silver platter, and they deliberately fucked it up.
Update: So now I've reset my device twice, and it ain't got nothin' on it no more. Fortunately I can sync it from my phone - apps, data, and settings. But it takes a while. Several whiles, really.
Update: And now, to add insult to injury, it won't use the SD card any more.
Update update update: So... Since I couldn't move apps to the SD card any more, I tried enabling adoptable storage again. It doesn't use it as adoptable storage, but you
can
move apps to it manually. And - this is a big plus - the Kindle app actually uses it. My Kindle library is about 6GB and wouldn't fit on the tablet before, so this is a win.
I have the card configured as 40GB adoptable and 80GB portable, which should be plenty. If I run out I can get a 200GB card to replace the 128GB one.
Posted by: Pixy Misa at 11:48 PM | Comments (3) | Add Comment | Trackbacks (Suck)
Post contains 246 words, total size 2 kb.
Thursday, September 22

Moto G4 Play Plus Or Minus
My new phone arrived today - the Moto G4 Play. It's not quite as physically impressive as the Xperia Z3 Tablet that showed up Tuesday. The tablet is a premium device, and feels like it; it's just a premium device that came out in 2014. The G4 Play is a 2016 release, but a budget model.
The back is removable to access the battery (replaceable), the two SIM cards, and the microSD card. That's very practical, but makes the phone feel slightly cheap; there's just a little bit of give to the rubberised plastic rear cover. (On the other hand, it's unlikely to slide off surfaces the way the glass-backed Nexus 4 does.)
In an expensive phone the plastic construction might be an issue, but at A$199 (US$149) I'm not about to complain.
As for use, so far: The screen is fine; only 720p, but that's enough for anything but VR, which doesn't really interest me. It's IPS, but a cheapish one; there's a bit of a yellowish tint when viewed at a sharp angle, but it looks just fine when viewed at something approaching normal positions. At one point I wondered why the screen was blurry, then I blinked a few times and that fixed it.
It uses a Mediatek chip with a 1.2GHz quad core A53 CPU. This is perfectly zippy for basic functions - surprisingly so, about 60% faster than the Nexus 4, around the same as my late Nexus 5. A high-end phone like the iPhone 7 or Galaxy S7 would three times faster than that, but that mainly matters if you're doing stuff I don't do on my phone - photo processing, videos, stuff like that. If your phone is your main computer, it likely matters, but I have three desktop computers, two laptops, and four tablets to handle any serious computing.
The camera and speakers work - neither great nor awful. Audio from the headphone jack is perfectly fine, and has a lot more volume than the Nexus 4 or 5 I used previously. Maximum volume is far too loud on my Sennheiser PX-100s, instead of being the normal setting I use when I'm out and about.
It comes with Android 6.01 and about 11GB free of 16GB storage. On a phone, that's plenty; the SD card will hold all the audio files I could want; a 128GB card equals about 2000 hours of MP3 audio. (Okay, so I have about 2TB of MP3s piled up, mostly podcasts, but I don't need them all on my phone at once.)


Setup was dead easy. I put in my WiFi and Gmail passwords, and it offered to import all my apps and settings from my Nexus 7. I just needed to un-check Final Fantasy 1 through 6 and off it went. That will take a while - it's about 100 apps - but that's a big improvement over selecting them all one by one in the Play Store.
Android itself is pretty much stock, with no layered cruft that I've noticed. I installed Nova Launcher - or rather, it installed automatically since it's on my Nexus 7 - and Paperland Pro, so it's set up just the way I like it.
I'm sure an iPhone feels nicer to user, more refined, but the current model starts at A$1079 and has only barely a higher-resolution display (1334x750 vs 1280x720), only supports one SIM card, doesn't believe that SD cards exist at all, and lacks even a headphone socket. (And don't even think about replacing the battery.) So at more than five times the price it has inferior specs in several ways.
The only problem, if you want to call it that, is that now I've run out of microSD cards.
Posted by: Pixy Misa at 01:13 PM | No Comments | Add Comment | Trackbacks (Suck)
Post contains 629 words, total size 4 kb.
Tuesday, September 20

Toys In Boxes
I've been looking for a while for a new tablet to replace my 2013 Nexus 7, and a new phone to replace my 2012 Nexus 4 (which was pressed back into duty when my Nexus 5 disintegrated).
Purely by chance I noticed that Sony was clearing out old stock of their Z3 Tablet Compact at 40% off - down from $499 to $294. The only shortcoming of that device was that they only sold the 16GB model in Australia. 16GB is barely adequate if the device has microSD support - which it does - but not enough that I wanted to spend $499 on it. At $294, though, I bit.
The only thing I really wanted from a phone was more storage, but all the cheap models have 16GB like my Nexus 4, or sometimes even 8GB, which is basically useless. The new Motorola G4 Play has 16GB and a microSD slot - and I picked it up for $199 (normally $279). Again, I'd rather have at least 32GB built in, but for $199 I'm not worried. The storage is mostly so that it can replace my old 160GB iPod, and the three main audio apps I use support SD cards just fine. I'll just need to keep prodding Big Finish to fix
their
app; their file sizes are huge.
The Sony tablet arrived today. This thing is
great
. It's an 8" tablet with a 1920x1200 screen, a 2.5GHz Snapdragon 801 processor, 3GB RAM, and 16GB of storage, of which about 11GB is available and 9GB is free (they preloaded a lot of stuff). That's why I don't like 16GB devices - nearly half is gone by the time you get it.
That aside, it's very light (lighter than my Nexus 7 despite the larger screen) and very fast (the speed was immediately noticeable even under Android 4.4, and Android 5 is faster again). The screen is bright, sharp, and clear, with vibrant colours.
It's a couple of years old now - it came with Android 4.4 (and a 63% charge, somehow...) It's now on 5.0 and updating to 5.1; 6.0 is supported and should be available as an upgrade from 5.1. Apparently it won't support Android 7, because Qualcomm have decided not to upgrade the graphics drivers for their older chips, but Android 6 (Marshmallow) is good enough.
I've stuck in a 128GB microSD card that was parked in my notebook but not really being used. Shortly I'll see if that works with Android 6's adoptable storage, which should pretty much solve the 16GB problem.
If adoptable storage works out I'm tempted to buy another one; it's that good.
The one odd thing is that it seems to have a SIM slot. I wasn't expecting that. I wonder if it actually works...
Update: Don't think the SIM slot works. But Android 6.0 is downloading now, so that's something. On the other hand, I'm down to 7.3GB of space on the internal storage and I haven't installed anything yet.
Update 2: Sony have royally buggered up the storage on this thing. First, it only has 16GB. Second, they've mapped the logical SD card to internal storage, so that apps that support moving to the SD card don't actually move. Third, they've disabled the Android 6 feature to mount an SD card as internal storage, which would have fixed the first two screwups. Ugh.
Update 3: It seems to have decided that it
can
move apps to the SD card after all. That's got me the best part of 2GB back. What it won't move to the SD card is, specifically, the
Final Fantasy
games, some of which weigh in at 600MB - quite a lot when you only have 7.3GB to start with. Oh, and the Kindle app data, which adds up fast if you have a magazine subscription (
Asimov's
and
Analog
). But in both cases it claims it
has
put the data on the SD card, which is more than a little annoying.
Update 4: The Kindle app puts about half its data on the SD card. Why half, I have no idea. They probably did it just to irritate me. The Audible app works properly, as do Google's Music app and Pocket Casts.
Update 5: I don't think the Kindle app puts anything on the SD card. It says it does, but it's lying. But I have most of my stuff installed, and I have 3.3GB left internally. (And 103GB left on the SD card.) And that's without firing up ADB and enabling adoptable storage.
Posted by: Pixy Misa at 02:07 PM | Comments (3) | Add Comment | Trackbacks (Suck)
Post contains 760 words, total size 5 kb.
60kb generated in CPU 0.0234, elapsed 0.305 seconds.
53 queries taking 0.2876 seconds, 351 records returned.
Powered by Minx 1.1.6c-pink.