Friday, January 07

Small Is The New Shiny
Micron have just launched a new range of consumer-grade SSDs, the
C400
series. These follow on (naturally) from their earlier C300 range, but use Micron's new 25nm MLC flash technology (jointly developed with Intel) instead of the older 34nm chips.
Since 25
2
is roughly half of 34
2
, this should mean that Micron can pack about twice as much flash into a drive, and indeed they do; the top model of the new range is 512GB compared to 256GB previously. Performance is also up;
quoted
durability at the drive level has stayed the same at a 72TB lifespan* though the lifespan of the individual flash cells is shorter at 3000 vs. 10,000 cycles.
The new drives are also a little cheaper, at around $1.60 per GB vs. a previous $2 to $2.50.
What's really interesting though is that they are producing both 1.8" and 2.5" models (regular notebook drives, and most current SSDs, are 2.5"). The largest capacity is available in both sizes - even though the physical volume of a 1.8" drive is approximately 1/4 that of a 2.5" drive.**
Those 1.8" 512GB drives provide the highest storage density of any disk drive available today. And transfer rates up to 415MB per second, matching the speed if not the capacity of the 5-disk RAID array we had in our previous server, at about 1/100th the size.
Servers are steadily moving to 2.5" drives, because commercial applications often need lots of disks for I/O performance, leading to things like this 72-bay server chassis from Supermicro: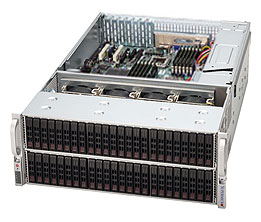 (If you're counting, it has another 24 bays at the back.)
I can't wait to see something like that, optimised for 1.8" drives...
* That's between five and ten the quoted lifespan for Intel's M-series drives, but still low for a busy database server. Our current server has done 3TB of database writes so far; if I'd deployed that on a single 80GB Intel X25-M (instead of the more expensive but far more durable X25-E's) it would be calling in to schedule its mid-life crisis about now. In reality I think Intel's numbers are likely to be extremely conservative, but I don't like losing databases.
** Disk drives are like ISO paper sizes. You'll find that two 2.5" drives turned sideways fit neatly on top of a 3.5" drive, and the same goes for 3.5" vs. 5.25". Probably true for 5.25" vs. 8" too, but I don't have an 8" drive handy to check.
Posted by: Pixy Misa at 04:52 AM | Comments (1) | Add Comment | Trackbacks (Suck)
Post contains 413 words, total size 3 kb.
1
8" drives were very, very long (or deep). 70cm deep was quite normal for them. Both removables and winchesters were in the same format. I think it had to do with the use of linear head actuators, inherited from 11" drives. The first 5" drives that I saw had step motors for actuators, and the heads moved in straight line like on 8" drives. This quickly was replaced with the rotating assemblies we know today.
Posted by: Pete Zaitcev at Friday, January 07 2011 11:18 AM (9KseV)
Comments are disabled. Post is locked.
47kb generated in CPU 0.0128, elapsed 0.1906 seconds.
56 queries taking 0.1818 seconds, 334 records returned.
Powered by Minx 1.1.6c-pink.