Monday, January 03

Shiny Is As Shiny Does
This is shiny: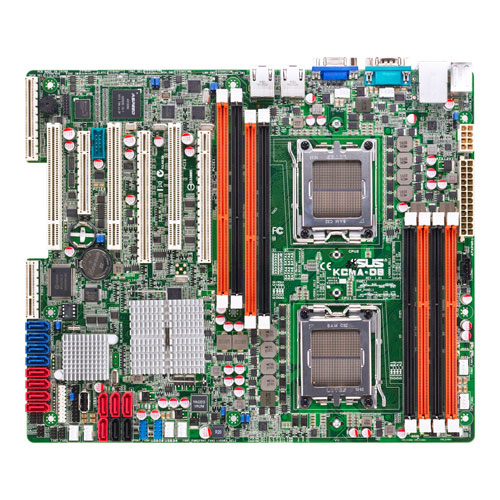 What it is, is an Asus-built ATX dual-socket Opteron 4100 motherboard. The ATX part means it's small enough to fit in a standard desktop case; the Opteron part means it's a proper server/workstation motherboard; the 4100 part means that it's a
low-end
server/workstation motherboard, but that means that the CPUs start at
about $100
. And the motherboard itself is
under $300
, so you can build yourself a powerful system very inexpensively.
By comparison, the Xeon X5670 processors in the server currently running this site retail for
nearly $1500 each
.
It's not without its flaws, though. Those eight SATA ports at the far left don't work without an optional proprietary RAID module, which
start at $140
.* And though it has a dedicated server management port on the back, the server management module itself is a $60 option, bringing the total to around $500. That brings the price close to the $600 for
this Tyan motherboard
, which has the same feature set but far better expansion options.
However, the Tyan motherboard
won't
fit in a standard desktop case - nor, as it turns it, in the server case I was planning to use.
Bugger.
The Asus board would be great for my next home Linux box - it will give me a cheap platform for 8 to 16 cores and 32GB of RAM. It would also be perfect for a mu.nu server that I own rather than rent; the sole difference being that I'd use ECC RAM in that one.
For Windows, while all those cores and all that RAM would be lovely, the limited expansion is less so. The board has just two USB ports on the back - USB 2, not 3; no Firewire, no audio at all, no eSATA, and server-grade (i.e. pathetic) built-in video. So it would need, at a minimum, a video card, a sound card, a SATA controller (6 working ports ain't enough) and a USB 3 card. Since there are only 3 PCIe slots, the sound card is going to be PCI.
Would
be PCI, if I were planning on buying four. One. Planning on buying one. Clearly I'm not going to buy one for Windows and one for Linux and one for mu.nu and one for mee.nu. I mean, not
today
. The stores are closed.
Update: Oh, wrong case. Supermicro do have very similar, and only slightly more expensive, cases that support the larger size of the Tyan motherboard mentioned above. So we're good to go there. Still waiting for CentOS 6 and a stable OpenVZ kernel for it, and for the new generation of Intel SSDs, before I start plunking down cash. The one advantage with renting servers is that I can change my mind at any time. Once I buy hardware, I'm stuck with it unless it actually doesn't work.
If the above KCMA-D8 (
$310 from Acmemicro
, who built our new 100TB server at my day job) isn't enough, there's the
KCMR-D12 for $379
: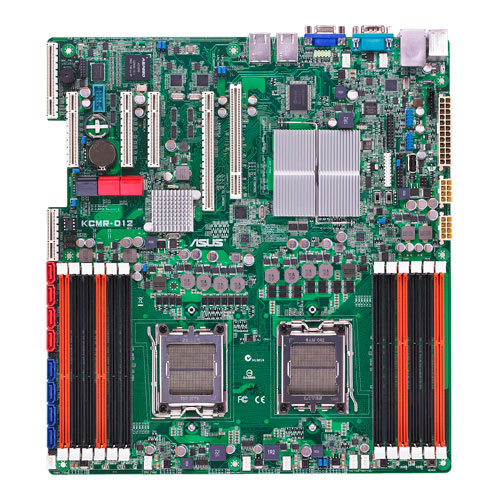 Or the
KGPE-D16 for $445
: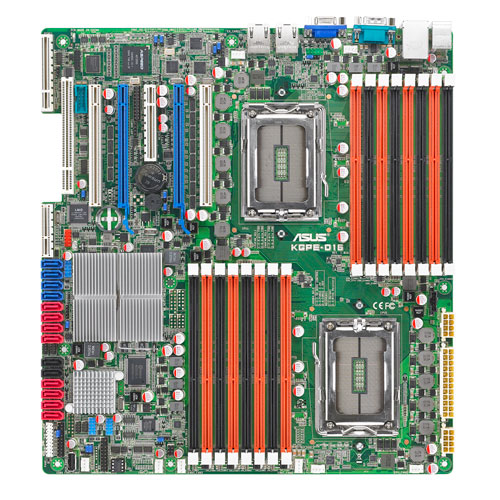 Those won't fit in a standard desktop case, obviously; they're quite a bit bigger. They take the same RAID and server management modules, and a whole lot more RAM - 12 and 16 DIMMs respectively. The D16 can actually accept 16 cheap 4GB unbuffered modules if you really want to do that.
The D8 and D12 are Opteron 4100 boards, and support 4-core and 6-core CPUs, with 8-core coming later this year; the D16 is an Opteron 6100 board, supporting 8-core and 12-core CPUs, with
16
-core coming later this year. The 8-core CPUs are still reasonably priced: A 4180 6-core 2.6GHz CPU costs $206; a 6128 8-core 2.0GHz CPU costs $286. And the Opteron 6100 supports 4 processors, for a cheap 32-core machine.
* There is an advantage to the proprietary RAID card, though - it's small enough to fit upright in a 1U server case. You don't even need to muck around with riser cards.
Posted by: Pixy Misa at 04:06 PM | No Comments | Add Comment | Trackbacks (Suck)
Post contains 661 words, total size 5 kb.
Comments are disabled. Post is locked.
48kb generated in CPU 0.0123, elapsed 0.1135 seconds.
54 queries taking 0.1059 seconds, 332 records returned.
Powered by Minx 1.1.6c-pink.