I'm in the future. Like hundreds of years in the future. I've been dead for centuries.
Oh, lovely, you're a cheery one aren't you?
Thursday, November 13

Making A List, Checking It Twice
CPU
✓
Motherboard
✓
Memory
✓
Disk drive
✓
DVD burner, with software
✓
DVD burner, w/o software, 2x
✓
Case
✓
Power supply
✓
The rest of the parts have shipped, and should arrive today or tomorrow. Yay!
Only worry I have is the
reports of issues with the Seagate 1.5TB drive
. I might throw Linux on there first to test things out, before I go to all the trouble of installing Vista.
Update: Politeness pays. I held the lift for a guy coming in the door, and it turned out to be the courier with the rest of my goodies. Yay!
Update: Boo! The cheap DVD burners, which are the same model as the more expensive burner but are cheaper because they don't come bundled with software, came bundled with software. The exact same software. Mind you, if that's the worst problem I have with this round of orders I'll count myself blessed.
Posted by: Pixy Misa at 11:33 AM | Comments (1) | Add Comment | Trackbacks (Suck)
Post contains 161 words, total size 2 kb.
Tuesday, November 11

Lies, Damn Lies, And Motherboards
I wanted to order my new PC today, because I urgently need to rebuild both my Windows and Linux boxes.* But that nice new Nvidia-based motherboard (below) isn't in stores yet, so I was going to go with a similar Intel G45 motherboard - until I noticed, just before sending the order, that the PCI-e x16 slot was really only a x4, just as it was in the previous version, based on the old Intel G33.
Well, crap.
So I went AMD instead. The 9750 will likely be a bit slower than the Q8200 would have been, but I'm still moving from a 2.6GHz dual-core to a 2.4GHz quad-core. And it means that I can swap parts between boxes. And I was kind of thinking of upgrading my Vista box to something like this anyway, and now I kind of have.
Other than that, a 1.5TB C: drive, 3 DVD burners (so I don't have to swap disks to switch games) and 8GB of RAM. Case is a Lian-Li V600, power supply a Corsair VX-450, both the same as my current machines.
Once I have this, I can load Vista and all my software on it, then copy everything off my current Vista box and install Centos 5.2 and OpenVZ, and then copy everything off my old Linux box onto the new Linux box and then install Centos 5.2 and OpenVZ on
that
.
Or maybe Fedora 10 and Xen.
Won't that be nice?
* My Windows registry has got corrupted - probably due to the bad RAM I had earlier - and this is causing all sorts of horrible problems. Not least of these is that I've lost all my shell extensions, including Tortoise SVN, which I need for work. It's also somehow killed the Windows Installer service, conveniently preventing me from ever reinstalling Tortoise SVN.

Meanwhile in Linux land, I need to compile a current version of Pixman so I can compile a current version of Cairo so that I can start doing some work with CairoPlot and Matplotlib for Minx. Only problem is that things won't compile, apparently due to some conflict with the pre-installed (but out-of-date) version of either Pixman or Cairo. And I'd just remove those, only Cairo is used by GTK, which is the heart of the entire Gnome desktop environment, so deleting Cairo would delete about half the operating system.

All I want is one (1) working Vista box and infinity (∞) working Linux boxes. Since I'm unlikely to get the latter, I'll settle for the ability to easily create new virtual machines at will. Hence the OpenVZ and/or Xen.

Posted by: Pixy Misa at 03:29 PM | Comments (2) | Add Comment | Trackbacks (Suck)
Post contains 441 words, total size 3 kb.
Saturday, November 08

At Long Last!
A decent all-in-one motherboard for Intel chips.
It's from Gigabyte, of course. The GA-E7AUM-DS2H might have an ugly name, but it looks like a sweet board. It has built-in GeForce 9400 graphics (so about a quarter the speed of my current video card), and though it doesn't have the dedicated video ram of the GA-MA78GPM-DS2H, it still manages to pip it on 3DMark06 by 100 points.*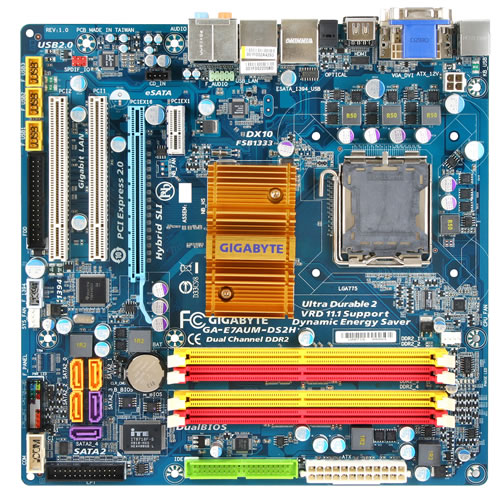 All the usual ports: 6 USB, 6 audio, gigabit ethernet, Firewire, DVI, VGA, HDMI and keyboard. No mouse, but it really is time you upgraded to USB.
Only problem is that it's brand new and no-one stocks it yet. Otherwise, that and maybe a Q8200 would make a nice new Vista box.
*
The GA-MA790GP-DS4H still edges it out: 2800 to 2400 to 2300.
Posted by: Pixy Misa at 11:22 PM | Comments (2) | Add Comment | Trackbacks (Suck)
Post contains 134 words, total size 1 kb.

LiveDrive
Put the ioDrive into production today. That's a big load of worries off my mind. The production server (this is at my day job, not mu.nu/mee.nu) has been constantly on the edge of flattening its RAID array, which is after all only four SATA drives.
Four 7200 rpm SATA drives can only do 480 iops, best case, and the ioDrive can do about 6000 iops,
worst
case, so it's making things run a lot more smoothly.
Now if I can just get the query builder to stop selecting the wrong index and sorting 15 million records every time a user does a search, everything will be peachy!
Posted by: Pixy Misa at 10:46 PM | No Comments | Add Comment | Trackbacks (Suck)
Post contains 108 words, total size 1 kb.

It's How F'ing Much?!
So, if I'm going to be building a new PC, I'm going to be looking at the latest bits and pieces, right?
What I was thinking for the CPU was a low-power AMD chip, like the 9350e 2.0 GHz quad-core ($220) or the new model of the 5600+ 2.9GHz dual-core ($150). Both are 65W chips - and 65W for a quad core is pretty nice. The higher-clocked dual-core would be better for desktop stuff; the quad better for server stuff. Shame they don't make a chip that lets you turn off two cores when you don't need them...
For the motherboard, either a Gigabyte GA-MA78GPM-DS2H ($160), a nice little all-in-one mATX board that's the successor to the successor to my current motherboards, or the GA-MA790GP-DS4H ($200), a full ATX board that has all the same features plus SLI support. Both have built-in video, and include 128MB of dedicated DDR3 video ram. Which is not critical now that I have a working video card, but is nice to have when I come to repurpose them in a year or two.
Throw in 8GB of memory ($160) and either a cheap 750GB drive ($125) or a shiny new 1.5TB drive ($290) and a case (which I have) and a power supply (which I also have, though I might buy a new one), and voila.
But hey, what about Intel's new Core i7? Initial reports are that it's fast fast fast - about twice the speed of that AMD quad-core - and not too expensive, reportedly starting at US$284 in quantity. It's only just been pre-announced, and I doubt anyone has it yet, but maybe they have pricing and an ETA...
Oh look!
It's in stock!
And it's only... Uh, nearly $700?! For the
cheapest
model, and $2400 for the high-end version.
Holy channel markup, batman. I thought we'd left crap like that behind.
Motherboard? One model in stock: The
Gigabyte GA-EX58-EXTREME
, a snip at just $600.
It takes 12GB of DDR3 memory, and to fill it up will cost, let's see, another $700.
So, $2000 for Intel CPU, motherboard and memory, vs. $470 to $580 for the AMD stuff. The Core i7 is a lot faster, but it's not $1500 worth of faster, at least, not in my current financial situation.
Posted by: Pixy Misa at 02:26 AM | Comments (2) | Add Comment | Trackbacks (Suck)
Post contains 383 words, total size 2 kb.

I Hate It When That Happens, Part 46
So I was writing a chapter on using the CDN for The Minx Book, and I thought I'd get some accurate stats for my examples.
And I find that my ping time to the Sydney node has jumped from 14ms to 175ms, which is not materially better than the 215ms for the mee.nu server itself.
It's a good thing I'm not paying for this. Oh wait, I
am
paying for this.
Grr!
Posted by: Pixy Misa at 12:11 AM | Comments (1) | Add Comment | Trackbacks (Suck)
Post contains 81 words, total size 1 kb.
Friday, November 07
Boot To The Head!
I know I often rag on Microsoft for their knowledgebase articles, but frankly, they deserve every bit of it. And a boot to the head:
Click the

Microsoft Office Button

, and then click

Access Options

,

Excel Options

,

PowerPoint Options

, or

Word Options

.
Click

Trust Center

, click

Advanced Trust Center Settings

, and then click

Privacy Options

.
Select the

Download a file periodically that helps determine system problems

check box.

Wait about a week to allow the file to be downloaded

, and then run Microsoft Office Diagnostics again.
Posted by: Pixy Misa at 08:38 PM | No Comments | Add Comment | Trackbacks (Suck)
Post contains 86 words, total size 1 kb.

Gonna Buy Me A Cuisinart
Well, no. But I'm going to buy a new PC.
Install Vista, install everything else, copy all my data across, make sure it works, and then blow away the old one and put CentOS and OpenVZ on it.
Pity I didn't do it two months ago, before the prices all went up.
Posted by: Pixy Misa at 12:12 PM | No Comments | Add Comment | Trackbacks (Suck)
Post contains 57 words, total size 1 kb.

Anyone Want An Elf?
I seem to have one spare.
Update: Oops. No, I have one elf and two collections of elf costumes. Much less useful.
Posted by: Pixy Misa at 11:04 AM | Comments (5) | Add Comment | Trackbacks (Suck)
Post contains 26 words, total size 1 kb.
Thursday, November 06

ioDrive - Disappointment
Can't seem to break 65,000 iops for 4k random reads.
That's only the equivalent of 260 15,000rpm SCSI drives...
Heh.
4 threads (or aysnchronous I/O with a queue depth of 4) is enough to push the card pretty much flat out, which is great, because that means it's actually possible to get those benchmark results in real-world applications (if you don't simply end up CPU bound).
Too many threads, or too small or large a block size, tend to make it choke a bit, and it performs better on pure reads or writes than on a mixture, but the worst-case results still deliver in excess of 5000 iops.
It might not quite deliver on the marketing gloss on all points, at least not without more tweaking than I've had time to do so far. I
have
been able to hit 700MB/sec on random reads (with a 16k block size), which is phenomenal.
Once I've collated the benchmark data, I'll produce some pretty graphs and a more detailed (and structured) review. But right now, if you have a moderately large database and need better disk performance, the ioDrive is the way to go.
Posted by: Pixy Misa at 05:18 PM | No Comments | Add Comment | Trackbacks (Suck)
Post contains 196 words, total size 1 kb.
69kb generated in CPU 0.0207, elapsed 0.1808 seconds.
56 queries taking 0.1655 seconds, 362 records returned.
Powered by Minx 1.1.6c-pink.