You talk! ... Kind of.
Saturday, July 04

Happy Fourth!
Hope you're enjoying the festivities and the warm summer weather.
Meanwhile, it's nothing degrees here in Sydney. Woke up this morning and looked at my Nexus 7 and the weather widget is showing a little snowflake. IT'S NOT SUPPOSED TO DO THAT.
Turned out that it was the frost symbol, not actual snow, but still.
Posted by: Pixy Misa at 11:15 PM | No Comments | Add Comment | Trackbacks (Suck)
Post contains 57 words, total size 1 kb.
Saturday, June 20

MLP:FIM:EG:RR
For a sequel to a spinoff of the fourth iteration of a cartoon designed to sell toys to six-year-old girls, that was surprisingly good.
Posted by: Pixy Misa at 06:50 PM | Comments (8) | Add Comment | Trackbacks (Suck)
Post contains 25 words, total size 1 kb.
Wednesday, June 17

Nano Nano
So AMD paper-launched their new video card lineup at E3 yesterday. We already knew that most of the 300-series were just 200-series cards with new stencils and (in some cases) more memory.
The extra memory is welcome, though; with 2GB with 285 came up a bit short; with 4GB the 380 is a much better card, though it's the exact same chip.
The real excitement was around the new Fury cards - the top end cards now get a name and not just a number. We knew that the Fury and Fury X were coming, because AMD announced their use of HBM (High Bandwidth Memory) months ago, but they still kept a surprise up their corporate sleeves.
HBM is a new answer to video cards' ever-growing demand for memory bandwidth. If you look at Nvidia's current high-end cards, they use a 384-bit memory bus running at an effective 7GHz. With HBM, AMD have flipped that around and only run at 1GHz - which demands far less power - but on a bus that's 4096 bits wide.
And they achieve that by attaching the memory not to a circuit board, but to a silicon interposer. 4096 traces on a circuit board would be hugely expensive - and just plain huge - but on silicon it's easy. The interposer is far larger than a normal chip, but since it only carries wires and not transistors, it can be built easily on old, reliable equipment, and doesn't have the size restrictions of actual logic chips.

Anyway, AMD showed the water-cooled Fury X, which offers 50% more performance than their previous high-end card at the same power consumption - 8.6 TFLOPS vs. 5.6 TFLOPS - the air-cooled Fury, about 15% slower and 15% cheaper, the forthcoming Fury X2, which is two Fury Xs on a single card, and the R9 Nano, which came as a complete surprise.

Essentially, the Fury X is the fastest single-GPU card AMD can currently make; the Fury is the best price/performance they can achieve; the Fury X2 is the fastest card they can make that can actually fit in a normal computer.
The Nano is designed to deliver the best possible performance per watt. The Fury X delivers 50% better performance per watt than the previous generation (using the same 28nm silicon process at TSMC), but the Nano is designed to run not at the optimum settings for performance, but at the optimum settings for power consumption, and the result is that it's faster than AMD's previous high-end card at about half the power.
And half the size. By high-end video card standards, it's
tiny
, about 6" long.
AMD haven't yet release final specs and pricing for the Nano, but I'll be watching for it eagerly. I don't need the absolute fastest video card I can get, but the card I have barely fits in the case, and makes upgrades incredibly awkward. The Nano should be about twice as fast as the card I have, use less power, and take up half the room. And give me more DisplayPort outputs so I can run a full 4K triple-monitor setup.
The real breakthroughs in performance will come in the next couple of years, as AMD and Nvidia combine HBM and HBM2 (twice as fast) with the next-generation 14nm silicon processes that are finally coming on line for them. But AMD with its Fury range and Nvidia with their Maxwell linup (960, 970, 980, and Titan) have given us a tantalising taste of the near future. Moore's law isn't dead quite yet.
Posted by: Pixy Misa at 09:12 PM | Comments (8) | Add Comment | Trackbacks (Suck)
Post contains 593 words, total size 4 kb.
Tuesday, June 16

Apparently Some Classic JRPG Fan Found A Magic Lamp...
They could have wished for world peace, a cure for cancer, and a really big pie. But no...
At E3, Sony announced an actual release of the much delayed
The Last Guardian
, a PS4 remake of
Final Fantasy VII
, and (here much of the audience lost their minds),
Shenmue III
.
One commenter on Reddit described it as a fanfic version of an E3 event.
Posted by: Pixy Misa at 10:12 PM | Comments (5) | Add Comment | Trackbacks (Suck)
Post contains 73 words, total size 1 kb.
Wednesday, June 03

Sunday, May 31

Sony Gets Steamed
Sony Creative Software are having a little sale on their loop libraries this weekend.
And when I say "little sale", I mean "buy one, get
three
free".
I spent a bit. More than a bit, really. But I cleared out my entire wishlist.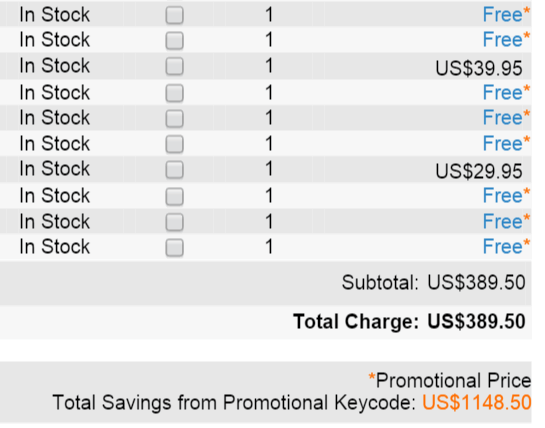 I hadn't bought any loop libraries since 2011, when Sony moved to electronic delivery and sold off their old stock of CD-ROMs at a 75% discount, so now I'm all caught up.
Update: Oops.
Horncraft for R&B
is the subtitle for
Crimson, Blue, and Fabulous
, which I already had. So I only saved $1108.50 rather than $1148.50.
Posted by: Pixy Misa at 04:53 PM | Comments (5) | Add Comment | Trackbacks (Suck)
Post contains 103 words, total size 1 kb.
Wednesday, May 27

Unicode
Glitchr
explains Unicode.
Ai Shinozaki explains Unicode.
Posted by: Pixy Misa at 09:47 AM | Comments (6) | Add Comment | Trackbacks (Suck)
Post contains 12 words, total size 1 kb.
Monday, May 25

The Modders Are Restless
Cities:Skylines, with a little tweaking.
Also, this, with very little tweaking:
Posted by: Pixy Misa at 08:36 PM | No Comments | Add Comment | Trackbacks (Suck)
Post contains 15 words, total size 1 kb.
Sunday, May 24

So I Was Wondering
Note to self: Implement auto-save, dammit.
I already knew that LMDB supported multiple values per key. Reading the docs last week, I noticed that values within a key were stored in sorted order. This evening, I was wondering if it were possible to seek to a particular value within a key.
It is.
This is
neat
. It means you can use LMDB as an engine to implement a two-dimensional database like Cassandra, or a data structure server like Redis, with the elements of lists, sets, and hashes individually addressable.
Plus the advantage that unlike Redis, it can live on disk and have B-tree indexes rather than just a hash table. (Though of course Redis has the advantage of predictable performance - living in memory and accessed directly, it's very consistent.)
The other big advantage of LMDB (for me, anyway) is that it natively supports multiple processes - not just multiple threads, but independent processes - handling transactions and locking automatically. I love Python, but it has what is known as the Global Interpreter Lock - while you can have many threads, only one of them can be executing Python code at any time. The other threads can be handling I/O, or calling C libraries that don't access shared data, but can't actually be running your code at the same time.
That puts a limit on the performance of any single Python application, and breaking out into multiple processes means you need to find a way to share data between those processes, which is a lot more fiddly than it is with threads.
LMDB don't care. Thread, process, all the same, just works.
Neat.
It does have limitations - it's a single-writer/multiple-reader design, so it will only scale so far unless you implement some sort of sharding scheme on top of it. But I've clocked it at 100,000 transactions per second, and a million bulk writes per second, so it's not bad at all.
Admittedly that was with the write safety settings disabled, so server crash could have corrupted my database. But my main use for LMDB is as a smart distributed data structure cache, so if one node dies it can just be flushed and restarted. In practical use, as a robust database, the numbers are somewhat lower (though with a smart RAID controller you should still be able to do pretty well).
It also supports a rather nice hot backup facility, where the backup format is either a working LMDB database ready to go (without needing to restore) or a cdbmake format backup (which is plain text if you're using JSON for keys and values), and it can back up around 1GB per second - if you have the I/O bandwidth - and only about 20% slower if the database is in heavy use at the time.
Posted by: Pixy Misa at 01:08 AM | No Comments | Add Comment | Trackbacks (Suck)
Post contains 472 words, total size 3 kb.
Friday, May 22

A Few Of My Favourite Things
Once I got past the segfaults, anyway. You should be using these things.
Posted by: Pixy Misa at 05:10 PM | Comments (12) | Add Comment | Trackbacks (Suck)
Post contains 65 words, total size 2 kb.
76kb generated in CPU 0.03, elapsed 0.0645 seconds.
26 queries taking 0.0385 seconds, 95 records returned.
Powered by Minx 1.1.6c-pink.