Meet you back here in half an hour.
What are you going to do?
What I always do - stay out of trouble... Badly.
Saturday, April 27

XCOM Thingy
You remember how there was that XCOM shooter under development, and how relieved we all were when that faded into the background and we got a new real XCOM strategy game instead? (Even if I haven't had a chance to play it yet, I was as relieved as anyone.)
Well, it seems the shooter didn't go away, it quietly soldiered on towards a launch this year, and - here's the thing - judging by the trailer, there's a chance, just a chance, that it might not suck.
more...
Posted by: Pixy Misa at 02:17 AM | Comments (11) | Add Comment | Trackbacks (Suck)
Post contains 104 words, total size 1 kb.
Wednesday, April 24

Start8
Start8
from Stardock turns Windows 8 into a fairly sensible (if artistically inept) update to Windows 7. It makes the start screen, charms bar, and hot corners go away. If that's what you want - each item is independently configurable.
And it gives you back a nice, clean, functional - and very configurable - start menu.
For just $4.99 it turns Windows 8 back from a screaming heap of garbage into a practical, useful operating system. Highly recommended if you find yourself in a situation where that might apply.
Posted by: Pixy Misa at 12:43 PM | Comments (14) | Add Comment | Trackbacks (Suck)
Post contains 90 words, total size 1 kb.
Tuesday, April 23

Sasami
Apart from the Windows 8 stuff - you shouldn't have to fight your operating system, much less your user interface - Sasami is pretty good for the price. Definitely needs more memory - it ships with 2GB, and it has integrated graphics which eats a good chunk of that right away, about 400MB by default, and I'm running Chrome (which can easily eat over 1GB), PyCharm (which can use several hundred MB on even modest projects), and Xshell (which can also use several hundred MB if you have lots of sessions with lots of history). So right away I'm using all the memory and then some.
So I'm thinking I'll add another 4GB, and give it the old SSD out of Lina (my Linux box; it has a 300GB Intel 320, but I have a new Samsung 840 Pro to replace that).
That should do for starters.
Also, according to the manual it
does
have USB 3, which is great news. My experience with USB 3 thus far consists of plugging drives in and having them work perfectly at speeds well over 100MB/s. That's not something you want to give up.
Also also, the GPU apparently delivers 80GFLOPS, not 48. Still a long way short of any decent desktop card, though - my faithful passively-cooled 4850 is my benchmark card, at exactly 1TFLOP, and my 7950 is nearly triple that. It should be just fine for playing Terraria or Starbound, but forget KSP - that runs slow even on the 4850 when I launch a complex rocket.
Battery life looks to be in the 5 hour+ range for normal active use (neither leaving it idle nor pounding on it constantly), which is fine for such a cheap notebook. The only essential upgrade then is the memory, which right now is kind of expensive - the DRAM spot market is going through one of its seasonal conniption fits, with prices up about 60% since the start of the year. 4GB of RAM will cost me nearly $40! (I can remember paying $500 for 4
M
B of RAM, for my Amiga 3000.)
Oh, and it comes with a trial version of Norton Anti-virus. I downloaded Start8 to give me back my start menu. Norton deleted it. I deleted Norton. Problem solved.
Posted by: Pixy Misa at 08:29 PM | No Comments | Add Comment | Trackbacks (Suck)
Post contains 379 words, total size 2 kb.
Sunday, April 21

Age Of Miracles And Wonders And Budget Notebooks
I bought a Windows 8 computer today - an HP Pavilion DM1-4306AU.
Looks like this.
One the one hand, it's woefully underpowered - a mere dual-core 1.4GHz, only 80 graphics shaders delivering a pathetic 48GFLOPS, just 2GB of RAM, and only 320GB of disk. The screen is a tiny 11.6" at a lowly 1366x768.
On the other hand, I haven't bought a new notebook in more than three years, haven't tried Windows 8 at all, and it cost $298 at the local hi-fi store.
And for a little perspective, it has four times the memory and four times the clock speed of the amazing Digital AlphaServer 8400 TurboLaser that I ran an entire phone company on back in 1995. It's not so long ago that this would have been a dream machine; it has 8 times the memory, 4 times the bandwidth, and 16 times the CPU performance of my SGI O2 - and that cost $25,000.
I don't think it has USB 3, or even gigabit ethernet
(U
pdate: Looks like it has gigabit ethernet but not USB 3; the higher-spec but more expensive US version has both.)
but it's small, light, has a decent screen (if rather sensitive to viewing angle), is surprisingly responsive (I played with it in the store), and supports up to 8GB of RAM and a full-size notebook drive.
Now all it needs is a name. (Interim name is Sasami.)
Posted by: Pixy Misa at 04:07 PM | Comments (10) | Add Comment | Trackbacks (Suck)
Post contains 243 words, total size 2 kb.
Thursday, April 18

Mega Phone Or Micro Tablet?
Samsung recently announced a couple of new additions to their Galaxy of Android phones (a statement that can be safely made without details because it will be as true next month or next year as it is today): The Galaxy Mega 5.8 and 6.3.
The 5.8 is of only moderate interest; it's a cheap(-ish) phone with a large (5.8") but low-resolution screen ("qHD", or 960x540), good for media consumption or people with poor eyesight (a huge market, that, not to be underestimated).
The 6.3, though, offers a 1280x720 6.3" display, 90% of the resolution of my Nexus 7 at 90% of the size. The phone itself, though, is
markedly
smaller than the Nexus 7 - 168x88x8mm and 199g vs. 199x120x10.5mm and 340g. - so 25% narrower and 40% lighter. It has almost no bezel (the Nexus 7 has quite a wide bezel on all sides), but is small enough to hold by the edges, so that shouldn't matter. (Actually, the Nexus 7 is too, barely, at least for my hands.)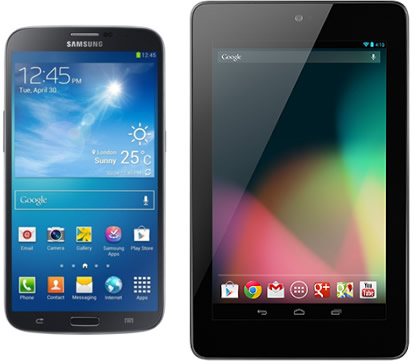 A quick mockup I made of the relative sizes of the Samsung Galaxy Mega 6.3 and the Asus/Google Nexus 7. It only approximate, but it should be pretty close.
That image is Photoshopped - well, actually, Fireworksed, as I do most of my image work in that instead - using cropped and rescaled images of the two devices. It should be fairly accurate; the screen on the Mega has a slightly higher pixel density so it's a little smaller vertically, plus noticeably narrower as it has 720 pixels vs. 800. The really dramatic difference comes from the near-elimination of the surrounding bezel.
Other hardware includes a 1.7GHz Exynos 5250 CPU (a dual-core A15), the exact same chip that powers the Nexus 10, which is much zippier in everyday use than the quad-core 1.2GHz A9 in the Nexus 7; 1.5GB RAM vs. 1GB in the 7; 8MP rear and 1.9MP front cameras vs. none and 1.2MP; but only 8GB or 16GB storage vs. 16GB or 32GB for the current Nexus 7. It also has a microSD slot supporting cards up to 64GB, which helps make up for the disappointing shortage of on-board space.
So while it's maybe an inch too far for a phone, as a small, take-anywhere tablet that has 3G/4G phone capability as a bonus, it's rather intriguing.
I'd like it even more if it had a 1080p screen and a bit more storage - even 32GB - but as it is, I'm already interested. Samsung haven't announced pricing or distribution details yet, so I'll be watching for that.
Posted by: Pixy Misa at 10:13 AM | No Comments | Add Comment | Trackbacks (Suck)
Post contains 435 words, total size 3 kb.
75kb generated in CPU 0.0325, elapsed 0.4679 seconds.
53 queries taking 0.4446 seconds, 363 records returned.
Powered by Minx 1.1.6c-pink.