Sunday, November 01

Daily News Stuff 1 November 2020
Minecart Edition
Tech News
Wait, when did those get added to Terraria?



Paging Big Hero 6. (IEEE Spectrum)

Swarms of tiny self-assembling robots. What could possibly go wrong?



Intel's DG1 GPU card is coming to the desktop. (AnandTech)

It's currently only for laptops and sold bundled with Intel CPUs, and the card will also be OEM-only. I'm not sure who exactly would want it, though it should support QuickSync for video transcoding.



There were

zero

new local cases of Wuhan Bat Soup Death Plague in Australia yesterday. (WuhanBatSoupDeathPlagueData)

People in Melbourne are now able to freely travel... A maximum of 25km.

A colleague had to co-ordinate with her parents to meet half-way for lunch.

Oh, and the Melbourne Cup is on Tuesday. This year it will be virtual. Robot horses or something.


One Million Yubis
Planning to get a new computer next year. Rough specs - subject to a lot of change.
Ryzen 5900X
Radeon 6800 XT
ASRock X570 Taichi
128GB RAM
3TB NVMe RAID-0
4TB SATA SSD RAID-0
Maybe a 14TB hard disk
3 x 4K monitors
That's a really high spec, but I want to put it under my desk and then not touch it for the next four years. So I'm strongly considering not having an internal hard drive at all, because the iron rule of computing is that hard drives fail.
I already have three 4K monitors - the two Dell desktops have HDMI input, and I have a Samsung 4K TN monitor - so I can replace the monitors at any time, not necessarily when I buy the system. As long as my video card has two HDMI outputs, anyway.

And I can buy the SSDs now and put them in the Dells until I'm ready to do the rest of it. Can't do that with memory unfortunately, since the Dells use SO-DIMMs.
It will be named
Korone
, to honor the doggo who just hit a million subscribers.
Honestly I could halve everything and still be pretty happy, but I am going to be running VMs, databases, cryptocurrency nodes, and all sorts of other crap on it, and expecting it to run games smoothly at the same time, so it needs to be overkill.
Or... I could just buy two smaller systems. I guess.
Update: Thinking about it, two systems makes more sense. One Windows and one Linux. Probably just with the 5600X and a 6700 XT or whatever they come up with on the Windows system.
Let's see what reasonably-priced motherboards are available with faster than 1Gb Ethernet... Well, if I wanted to stick with ASRock, the answer is
none
. Better off getting a couple of 10Gb cards rather than paying nearly as much to upgrade to a motherboard with integrated 2.5Gb.
Not At All Tech News
Terraria Video of the Day


Since when was there a mini map? Since when were there minecarts? Okay, yes, it's been a while.

Coco is eager to get a multi-player server set up and drag the other girls into this. I'd love to see them battling the various bosses together, because it would be complete chaos. They can't even ride a virtual roller coaster without multiple fatalities.

Update: Someone clipped and translated yesterday's Death Coaster insanity. This is just a few of the highlights, I counted at least six fatal falls while I was watching.




Picture of the Day
Three of the HoloEN girls were streaming Left4Dead, a four-player game. Calli had a recording session and Kiara had a collab with one of the HoloJP members, I think.
Since leaving a slot open would allow random people to join the game, the HoloEN manager joined in - and turned out to be the MVP.
Fans quickly dubbed her Enma
(EN manager).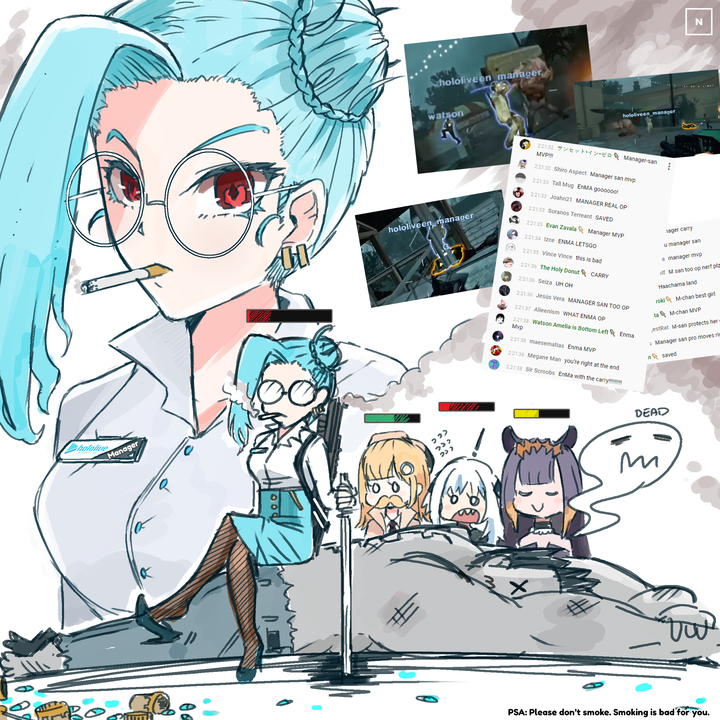 Enma is also the Buddhist god of the dead, so it fits perfectly into the Holomyth theme.


Disclaimer: She is Calli's boss, after all.
Posted by: Pixy Misa at 09:13 PM | Comments (8) | Add Comment | Trackbacks (Suck)
Post contains 652 words, total size 6 kb.
Posted by: normal at Sunday, November 01 2020 11:52 PM (obo9H)
Posted by: Pixy Misa at Monday, November 02 2020 12:05 AM (PiXy!)
Posted by: David at Monday, November 02 2020 05:03 PM (jdGUg)
Posted by: Pixy Misa at Monday, November 02 2020 08:03 PM (PiXy!)
Posted by: Jay at Tuesday, November 03 2020 05:07 AM (0jVI9)
Posted by: Rick C at Tuesday, November 03 2020 06:27 AM (eqaFC)
Posted by: normal at Tuesday, November 03 2020 12:33 PM (obo9H)
Posted by: Pixy Misa at Tuesday, November 03 2020 12:54 PM (PiXy!)
55kb generated in CPU 0.096, elapsed 0.5728 seconds.
58 queries taking 0.563 seconds, 340 records returned.
Powered by Minx 1.1.6c-pink.