Friday, March 28

SimCity Sydney
I was overjoyed when EA announced a few years back that SimCity was getting a new release - for about five minutes, until I learned that the new version, dubbed
SimCity Societies
, represented a marked dumbing-down of the game, focusing on social aspects rather than, well,
simulating
a
city
. I fully expected the new game to be a flop, and lo, it came to pass.
The people at EA were apparently worried that the game was becoming too complex to attract new players, and there's some truth to that. Unfortunately, their solution attracted no-one at all. GameSpot
gave it a score of 6.0
, and in the inflated world of game review scores, that's roughly a 2/10. Not only was it the exact opposite of what I wanted, it wasn't anything anyone else wanted either.
What I want from a city simulator is to be able to choose from commuter rail, light rail, elevated rail, subway, intercity rail, and trams. To be able to pick the designs and layouts of my stations and the stopping patterns of my trains, and how they integrate with my buses and ferries, and to have to send out the emergency crew when a ferry runs backwards down a hill and ends up on the tracks.
I want to have to route not just power and water, but sewer and gas and telephone and cable and fibre and, while we're at it, pneumatic delivery tubes and steam pipes, and deal with the resultant disaster when any two of those networks get cross-connected.
SimCity 4 caused me some grief because my sprawling cities didn't quite fit in my then 512MB of memory... And when I added another 256MB, I tripped over a bug in Windows and my system got corrupted.
But that was then, and this is now. Instead of an Athlon 1.2 with 512MB of memory, I have a dual Athlon 2.6 with 8GB of memory. And if SimCity 5 were actually available, I'd cheerfully upgrade that to a quad-core Phenom. (Which is just a CPU swap.) But, of course, it ain't.
The reason this comes up is that the NSW state government has just announced a new "metro" line for north-west Sydney. The line was announced to run via Wynyard and Epping and then on to Castle Hill and Bella Vista (the suburb that appeared overnight) and beyond.
Which is fine if a little dull. Run the trains from Wynyard over the Harbour Bridge to Chatswood, then through the underground line to Epping (which should open this year), and then up the newly constructed line.
Except that's not what they're doing. What they
are
doing is rather more interesting, in several ways. This is what the plans are at present:

(Click to enlarge. The proposed North West Metro is indicated in black.)
They're starting at St. James, a station I have never had any use for, crossing the city with a stop at Martin Place to Wynyard, then heading due west along the south shore of the Parrammatta River, before making a new crossing, heading up between the North Shore and Northern lines, and creating a third junction point at Epping.
That only leaves two pieces to complete the north-west puzzle - the Carlingford-Epping connection, and the Rouse Hill-Vineyard connection, each of which would tie together two railway lines.
Okay, so they're building a larger and more significant railway than I'd first thought. That's nice, but what, you ask, is so interesting?
Well, there's a lot of history to this, if you know Sydney. For starters, there was a railway line to Castle Hill before. It was never a commercial success, though, and it
closed in 1932.
Then there's the oddity of the trains starting at St. James, of all places, probably the least-used of Sydney's underground stations. Why there? This is why:
That's part the original plan for Sydney's rail network as envisioned by John Bradfield, who also designed the Sydney Harbour Bridge. The key point here is the blue and yellow lines on that map were never built - at least, not the way they are shown. A short line to the eastern suburbs was built much later via a different route; the northern beaches line remains a wistful thought in the minds of commuters on the packed bendy-buses on Military Road.
But while the lines themselves weren't built, provisions for them were made. On the Sydney Harbour Bridge, which originally had four rail lines and six vehicle lanes, as opposed to the current two and eight; at
St. James
, which has an odd, single, massively wide platform because it was originally designed to be the junction for the City Circle and Eastern Suburbs lines, and at
Wynyard
, where the platforms are, curiously, numbered 3, 4, 5 & 6.
So what we get is rather clever. Start from St. James, proceed to Wynyard via Martin Place through tunnels already partly constructed, then turn left and head out past Darling Harbour, possibly sharing right of way with the
Metro Light Rail
(which was in turn built largely on old goods lines) before heading off to Epping and points north-west.
The plan integrates half of the proposed
Anzac Line
with the previously proposed
North West Rail Link
:

It may even serve part of the purpose of the (proposed, now presumably abandoned)
Redfern to Chatswood rail line
. If commuters can be delivered the new platforms at Wynyard, Martin Place and St. James, then perhaps
Town Hall
can get the refurbishment it urgently needs. (They already did what they could without closing at least part of the station, but it's a 1930's-era railway station that serves half the CBD of a major city.)
Once this new line is built, I will have four alternative rail routes to work - assuming, which is unlikely, that I still live and work where I currently do in 2015. See where the red and yellow lines head off the top of the first map? Well, where they join, that's where I live: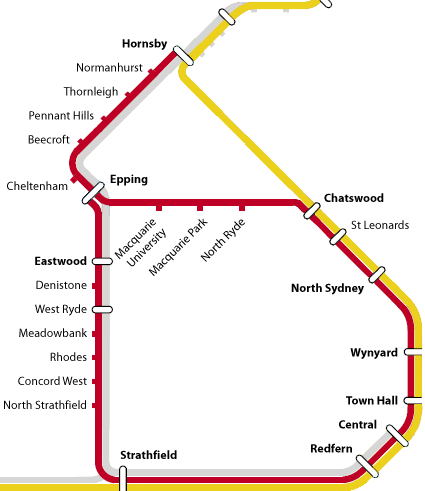 So I'll be able to commute into the city via Chatswood, via Epping, via Epping and then Chatswood (or via Chatswood and then Epping, but then I believe I'd need to change trains), or via Epping and Gladesville.
Oh, and: The adjacent suburbs of North Ryde, West Ryde, and Top Ryde will now all have railway stations - none of which connect directly to the others.
That's what I want to do in SimCity 5. That's the sort of thing that would bring the game to life, that would keep someone (at least, someone like me) tinkering with a city potentially for years. Oh, and pre-ordering expansion packs the moment they are announced.
EA, you've made a
small
large
quite huge, actually, fortune on The Sims. How about a little love for the game that started it all?
Update: Oh, I forgot to add a mention of this: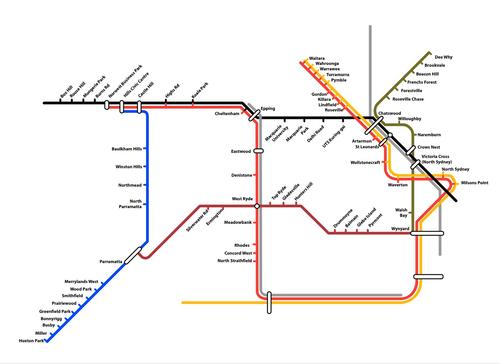 (Click to enlarge.)
That's a wow of a plan if it could be brought off. It's already been superseded in part by the North-West Metro - the Wynard-Gladesville-Epping route on this map is similar, but not the same - but it reconstructs the original Hills Line, and finally builds Bradfield's Northern Beaches Line, at least as far as Dee Why (and via Crows Nest, where I used to live).
It still doesn't connect Carlingford with Epping, though, and
considering how close the two are
, that's crazy. (If you have a decent sized monitor, Carlingford Station will be at lower left, Epping Station at upper right. A distance of a little over a mile if you dig a tunnel along the route of Carlingford Road, or about 15 miles via the current rail route.)
Update: Here's the full plan that the previous map was excerpted from: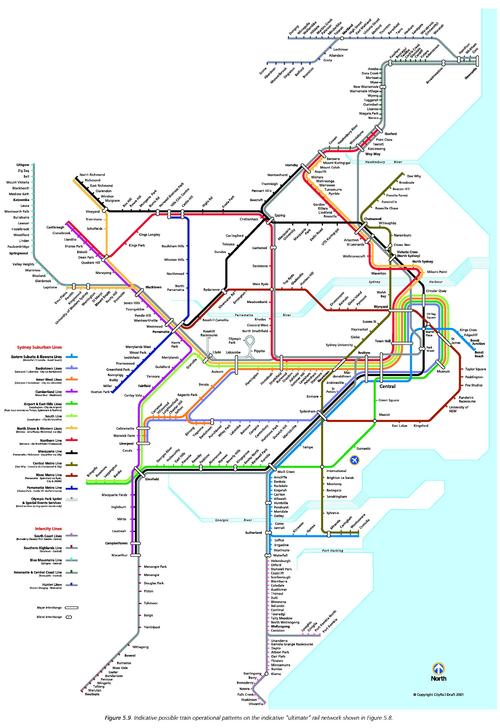 (Click to enlarge.)
The original was at some point resized by an idiot, so the quality isn't great. This is sad, because rail network maps of this complexity are transformed into works of art. I wonder where Wikipedia got their relatively high-quality copy; the only source I could find is
here
. (Section 5 contains the map.)
Update: Can't find a better copy, so I've resized the
original
with a soft filter. I also noticed that the full map
does
have the Carlingford-Epping link. Just needs the Moss Vale-Unanderra line to be reinstated for passenger services, and it's
perfect
.
Posted by: Pixy Misa at 10:53 PM | Comments (6) | Add Comment | Trackbacks (Suck)
Post contains 1385 words, total size 10 kb.
Posted by: Old Grouch at Saturday, March 29 2008 01:14 AM (Nmc8P)
2
Not quite an anorak - I want my trains to be part of a working city.
And yeah, I have a copy of
Trainz
. After all, it was developed here in Oz.
Posted by: Pixy Misa at Saturday, March 29 2008 01:34 AM (PiXy!)
3
This would be amazingly great if it ever got implemented.
Sadly I don't hold much hope.
Our current government and transport groups are way too busy with rorting, general inter group politicking and bureaucracy that we can't even get a single electronic ticket system working.
Granted we do have weekly all transport fares available but so many other cities have so much better i.e. Hong Kong's octopus card. Usable on all transport and heck you can even go into a 7-11 and buy something with stored credits.
Posted by: Andrew at Monday, March 31 2008 11:55 AM (EbEVE)
4
Yeah, between the state government and the city council, any realistic plan to improve public transport is... Well, perhaps not doomed entirely, but guaranteed to take longer and cost more than it is worth.
But that's beside the point. The point is I want SimCity 5!
Posted by: Pixy Misa at Monday, March 31 2008 06:15 PM (PiXy!)
5
Man, I wish the Sydney rail system was like those pictures. Living on the Northern Beaches during school, it was crap to get ANYWHERE, it was either a private company bus to Chatswood and catch the train, or catch a government bus somewhere else (which are not always reliable). And before that, living in Baulkham Hills, the only option was bus, or on weekends with less frequent buses, walking. I remember a number of times walking from B'Hills to C'Hill because it was quicker than waiting for the next bus. No wonder so many people rely on cars.
Fortunately my current place in Sydney is close to town, so I can walk to St Leonards station or North Sydney Station, or catch the bus straight into town which takes 10 minutes.
Getting to the beach, however, is a pain in the bum. I've been in Japan for almost 8 months, and the rail system is super convenient and well-managed. It is a tangle of two competing rail companies in Kyushu, but you can catch a train to almost anywhere. You can pay extra for catching an express train, pay a cheaper fare for a local train, and the Japanese treat it like you're boarding a plane sometimes. The announcements are always clear, and they tell you which carriages are reserved/non-reserved, which are non-smoking etc., and the trains are always punctual with the exception of heavy rain or snow (which has only happened twice in my time here).
Of course, when I come back to Sydney in a couple of months I will be over the moon to be back home, but the rail system is one of the things I desperately wish could be improved. Catching a train to Central is like watching a snail crawl sometimes! The local trains in Japan blitz Sydney trains on speed because the lines are so well maintained. Sigh.
Actually, there's a good idea... pilots do their flight training on flight simulators, why can't town planners do their planning simulations on something like SimCity?
Once you get a good rail network, save the game, pull your boss aside.. "Hey, check out this network! Let's start planning tomorrow."
Oh P.S., in Japan you can use your *mobile phone's in-built barcode reader* to scan at the ticket gates to pay for your ticket. No paper involved. It's called Pasmo, I think.
Posted by: Belinda at Wednesday, January 21 2009 04:51 PM (B4Cs7)
6
I live in Sydney and have SimCity 4 and Trainz.
It would be awesome to combine the simulation of Sim City with the detail of Trainz to run the transport show.
I think NSW would have to wait another 50 years before even half of those ambitous but needed plans are useable.
Australia in general is about 25 years behind Western Europe and Japan in terms of transport.
wake up politicians
Posted by: Rainer at Wednesday, May 30 2012 02:57 PM (Gd6+2)
Comments are disabled. Post is locked.
59kb generated in CPU 0.0159, elapsed 0.0995 seconds.
56 queries taking 0.088 seconds, 339 records returned.
Powered by Minx 1.1.6c-pink.