Sunday, June 22

Pretties!
This is the Samsung T240, a 24" 1920x1200 LCD monitor.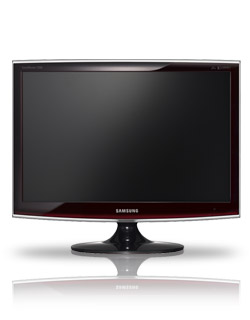 Or it could be the T260, a 25.5" model, or the T220, a 22" 1680x1050 model, or the T190, a 19" 1440x900 model, or the T200HD or T220HD, 20" and 22" 1680x1050 models with dual HDMI, built-in speakers, and digital and analog tuners. Samsung uses the same identical picture for all of them.
And this is the LN32A650, a 32" 1920x1080 television with
four
HDMI inputs* (plus VGA, 2 component inputs, S-Video and composite).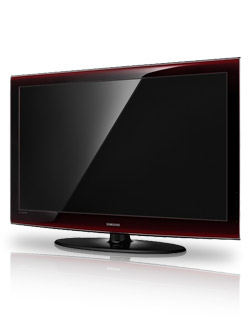 Or, likewise, the 22" or 40" models. They use a different photo for the 46" and 52", and yet another photo for the 19".
Anyway.
I'll take one of each, thanks.**
The TV's are already in stores in Australia, and the 32" model is about the same price as my 27" 720p from two years ago, and much much nicer.
The monitors haven't shown up here yet, unfortunately, and it's more the monitor than the TV that I'm after. Newegg are showing the
T220 at $319
, the
T220HD at $399
, and the
T260 at $549
. That's a bit pricey for the 22" models, but much inline with previous models for the 26".
There's currently a $100 rebate offer on the larger Samsung monitors here, and it looks like they're clearing stock to make way for these new models. As soon as they arrive, I'm going to pounce.
Oh, and here's a
shiny brochure
for the monitors, and
one for the TV's
.
(One little thing I noticed is that the specs say that if you want to connect a computer to one of these TV's via HDMI, you have to use HDMI input #2. This seemed unusually restrictive, so I poked around to see if I could find out why. There's a real reason: Only HDMI input #2 provides separate analog audio inputs. If your computer supports proper HDMI with sound, or you don't care about sound, you can use any of the inputs. The TV also has digital audio out, so it can be used to switch the four different digital sources to your speaker system. It also has ethernet and USB...)
Update: And this is the HT-X715 Home Theatre system: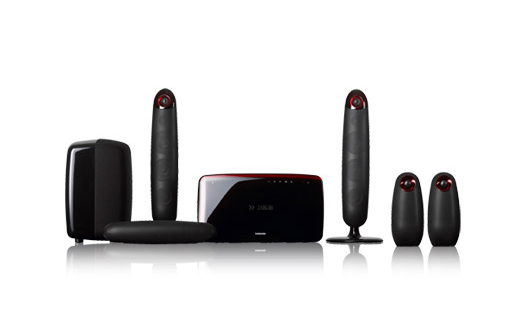 I have to laugh, because it's so designer-run-amok, but it does look good, and it does go together perfectly with the new TV's and monitors. So I'll have one of those too, please.
Update: The one disappointing thing was that there while there is a T200HD and a T220HD, there's no T240HD. So I can either have 1680x1050, speakers, and dual HDMI, or 1920x1200 with no extras.
I wondered why there was no T240HD; it seemed a natural product, since it can do native 1080P with no scaling. Then I decided to Google it.
Yes Virginia,
there is a T240HD
. On Samsung's
Austrian
website - but also in dozens of American online stores. Samsung, you goofs. There's also a
T260HD
, which would probably suffice as a TV as well as a monitor. (UK site this time, not nearly as widely available online.)
* My current TV isn't bad, but has a grand total of zero HDMI inputs. And it's "only" 720p, or more precisely, that weird resolution of 1366x768 which is popular with manufacturers for no apparent reason.

My current monitor isn't bad either, but it does have a 25ms refresh time (compared with as little as 2ms for these models) and I blew up the DVI input last Christmas. Mainly it's only 19", and I'd really like something a little larger. Like two 24" monitors side by side.


** Well, while I'd like one of each and every model, my wallet will settle for the 24" monitor and the 32" TV.

Posted by: Pixy Misa at 06:25 PM | Comments (10) | Add Comment | Trackbacks (Suck)
Post contains 620 words, total size 5 kb.
1
Those speakers have a certain "wide base to prevent loss" aesthetic to them that I'm not sure I want in my house.
And they're looking at me
.
-j
Posted by: J Greely at Monday, June 23 2008 02:42 AM (2XtN5)
2
I didn't know what that term meant. Now I wish I didn't know what that term meant. Thanks.
I think the ones on the right are dalek eggs.
Posted by: Pixy Misa at Monday, June 23 2008 04:10 AM (PiXy!)
3
I was about to say that that hifi system looks like a squad of Totoro.
Or at least some very large dust mites.
Posted by: Andrew at Monday, June 23 2008 10:16 AM (zwNFe)
4
My first thought upon seeing those rear speakers was "emo penguins."
Having looked at them for a longer time now, I stand by my thoughts.
Posted by: Wonderduck at Monday, June 23 2008 12:49 PM (qBCpG)
5
Having eyeballed some of the Samsung screens alongside the new Sony Bravia XBR screens.
I think I prefer Samsung. Much sharper and cleaner images. Sony seem to have a sheen or fuziness to it.
Posted by: Andrew at Monday, June 23 2008 02:12 PM (zwNFe)
6
Yes, I was looking at them in Bing Lee today. Very impressive contrast levels for LCDs.
Posted by: Pixy Misa at Monday, June 23 2008 03:57 PM (PiXy!)
7
Just perusing the latest Myer catalog. The hifi that sees all is available and listed at $699.
Posted by: Andrew at Thursday, July 17 2008 09:07 AM (oTmC6)
8
Cool.
I'm still waiting for the monitors to show up here, though.
Posted by: Pixy Misa at Thursday, July 17 2008 01:07 PM (PiXy!)
9
The A6 series televisions are slowly filtering in.
Posted by: Andrew at Thursday, July 17 2008 02:17 PM (oTmC6)
10
Yep, the tvs are available in stores now, but no sign of the monitors even on Samsung's website. Which is starting to get annoying, because they are available
everywhere else in the world.
Posted by: Pixy Misa at Thursday, July 17 2008 06:03 PM (PiXy!)
Comments are disabled. Post is locked.
52kb generated in CPU 0.0152, elapsed 0.3673 seconds.
56 queries taking 0.3558 seconds, 340 records returned.
Powered by Minx 1.1.6c-pink.