Thursday, August 11

Toy Shopping, Winter Edition, Update 2
Now is the Winter of our disk content.*
Just ordered a couple of HP servers. I've always wanted an HP server, and now I'm getting two.
Admittedly, they're very very
small
HP servers: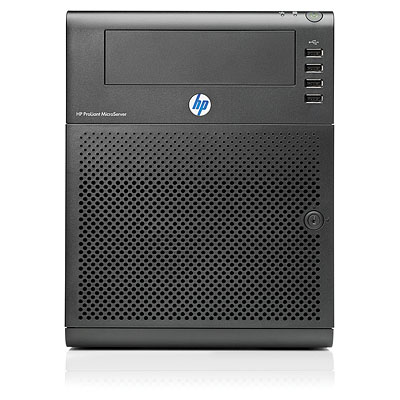 They take four 3.5" drives in neat little caddies, up to 8GB of ECC (or non-ECC) RAM, and are powered by an Athlon II dual-core chip.*** Gigabit ethernet, a swarm of USB ports, one each eSATA and VGA. Two low-profile PCIe slots, one full x16 and one x1. Comes with 1GB of ECC RAM and a 250GB disk, which isn't very much but at least lets you get it up and running right out of the box.
$250 each, including shipping - which is the same price as those Buffalo 4-disk NAS boxes, but a lot more capable. At the same time they're a good bit bigger than a Buffalo, but at the same same time they're maybe one third the size of the mini-tower machines under my desk and reportedly very quiet and light on power.
They'll work fine as file servers or test boxes without cluttering the place up too much.
I was uncertain whether to buy them - I could revive some of my older machines to do the same duties, though they'd be larger, noisier, and more expensive to run - when I found some
pretty positive reviews
and a
175-page thread
and another
194-page thread
about them on OCAU. They're apparently
quite
the item with the hobbyist crowd.
Now I just need to name them. Kirino for one, I think. And... Menma?
* Sorry.**
** Not really.
*** A 1.3GHz low-power Athlon, but that should be fine for what I'll be doing with them.
Posted by: Pixy Misa at 08:09 AM | Comments (6) | Add Comment | Trackbacks (Suck)
Post contains 288 words, total size 2 kb.
Posted by: Steven Den Beste at Thursday, August 11 2011 10:50 AM (+rSRq)
Posted by: Pixy Misa at Thursday, August 11 2011 11:51 AM (PiXy!)
Posted by: Pete Zaitcev at Thursday, August 11 2011 02:44 PM (9KseV)
Posted by: Pixy Misa at Thursday, August 11 2011 04:18 PM (PiXy!)
Posted by: Steven Den Beste at Friday, August 12 2011 12:39 AM (+rSRq)
Posted by: RickC at Sunday, August 14 2011 12:06 PM (VKVOz)
Comments are disabled. Post is locked.
50kb generated in CPU 0.0184, elapsed 0.0958 seconds.
56 queries taking 0.0821 seconds, 339 records returned.
Powered by Minx 1.1.6c-pink.