I'm in the future. Like hundreds of years in the future. I've been dead for centuries.
Oh, lovely, you're a cheery one aren't you?
Thursday, September 13

Do They Know Something We Don't?
Given the tenor of the questions put to Romney vs. those (not) put to Obama, the press are essentially treating Romney as though he were already president and Obama as though he were simply irrelevant.
Do they know something we don't* or are they just a bunch of brazen partisan hacks?
Posted by: Pixy Misa at 05:36 AM | Comments (3) | Add Comment | Trackbacks (Suck)
Post contains 59 words, total size 1 kb.
Monday, September 03

Number 1, The Bridge
If you're not sure whether you're in New York or Sydney, here's a tip: Find the bridge with the big stone towers at each end. If it goes
down in the middle
, you're in New York; if it goes
up in the middle
, you're in Sydney.
I was just looking for a new wallpaper after spending nearly a minute looking for an icon. While this: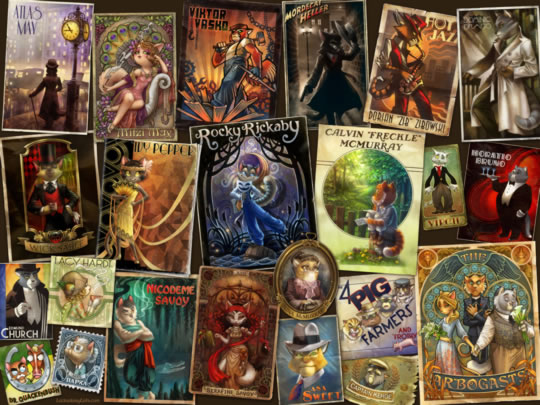 Is awesome, it's far too busy to be practical. I replaced it with this:
Which is beautiful and undistracting. But while searching for something suitably decorative I happened upon that very, very lost photographer.
(I'm guessing someone thought it was the Bayonne Bridge, which is at least a steel arch bridge and looks kind of similar to the Sydney Harbour Bridge, and the confusion grew from there. You can tell them apart as follows: The Sydney Harbour Bridge is much heavier - it carries eight lanes of traffic plus two rail lines to the Bayonne's four lanes; it has four enormous stone pylons that the Bayonne lacks; it has two mechanical spiders that run over the arch, used by the maintenance crews; it has the Australian and NSW state flags on top (a spider and one of the flags are clearly visible in the photo); and finally, it's in Sydney.)
Posted by: Pixy Misa at 04:41 PM | No Comments | Add Comment | Trackbacks (Suck)
Post contains 223 words, total size 2 kb.
42kb generated in CPU 0.0823, elapsed 0.2264 seconds.
51 queries taking 0.1977 seconds, 223 records returned.
Powered by Minx 1.1.6c-pink.