A cricket bat!
Twelve years, and four psychiatrists!
Four?
I kept biting them!
Why?
They said you weren't real.
Sunday, September 16

Ejätsu Tsabbari Tikkari Lallan Tittari Tillan Titsdandulla
(Bumped and updated because Internet Explorer is poopy.)
Stop it with the leek already Orihime!
Ejätsu tsabbari tikkari lallan tittari tillan titsdandulla
dibidabidallaa ruppatirupiran Kurikan kukka ja Kivikan kuu
är tsä tsää ja ribidabidillaa ba ridsan dillan dirlanduu
aba ribbaddaa da ribbaribaa ribiribirisden dirlanduu
For those who somehow (like me) avoided this menace when it hit the net last year... Here it is.
Click to see the evil.
Song is
Ievan Polkka
recorded by the Finnish group
Loituma
. The animation is known as
Loituma Girl
or, for obvious reasons,
Leekspin
. The girl pictured is
Orihime Inoue
from the anime series
Bleach
.
This little thingy sparked something of a comeback for Loituma. Here's a 1995 recording of Ievan Polkka:
And a 2007 appearance:
And an official music video:
There are innumerable variants of the original animation, but most of them aren't worth looking at. Particularly that hideous thing with the donkey...
When I first saw this clip I immediately realised that the lyrics were gibberish - scat, basically. So I was rather surprised on looking up the song to find that it was actually a dialect of Finnish known as Savo.
But my ear didn't fail me after all. Except for a few words -
Kurikan kukka ja Kivikan kuu
means Kurikka's (a town) flower and Kivikka's (a name) moon - the section of the song used in the animated clip is indeed gibberish. The rest of the song is in Savo; this part is made up by the singer and varies between performances. It is interesting that I could tell this without knowing a word of Finnish.
Posted by: Pixy Misa at 10:51 PM | Comments (11) | Add Comment | Trackbacks (Suck)
Post contains 268 words, total size 2 kb.
Thursday, September 13

Do Want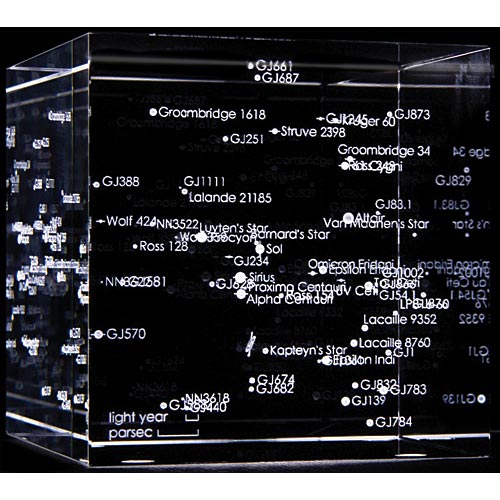 It's a star map. The problem with star maps in general is that stars are distributed in three dimensions. The solution this map uses is that it is also in three dimensions. It's engraved inside a solid transparent block using a carefully focused laser.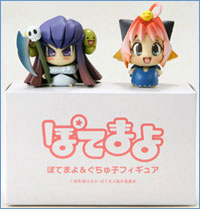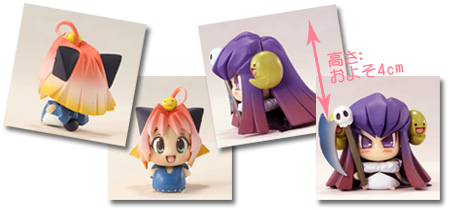 Still not plushies, but ideal for sitting atop your monitor.
Posted by: Pixy Misa at 12:43 AM | Comments (1) | Add Comment | Trackbacks (Suck)
Post contains 56 words, total size 1 kb.

Wednesday, September 12

When Facts Attack
Or, How the Continuing Merger of Reporting and Editorials Came to Produce Something Good
FoxNews:

Pennsylvania Man Claims to Burn Salt Water
Oh, great. There goes the Second Law of Thermodynamics.
ERIE, Pa. — An Erie, Pa., cancer researcher says he has found a way to burn salt water, a novel invention that is being touted by a retired chemistry professor as the "most remarkable" water science discovery in a century.

John Kanzius says he happened upon the discovery accidentally when he tried to desalinate seawater with a radio-frequency generator he says he developed to treat cancer. He discovered that as long as the salt water was exposed to the radio frequencies, it would burn.
Yes, it would indeed be the most remarkable water science discovery in a century if it weren't total nonsense.
The discovery has scientists excited by the prospect of using salt water, the most abundant resource on earth, as a fuel.
Water isn't a fuel (unless you have a working fusion reactor). Water is what you get when you're finished burning a fuel.
Rustum Roy, a Penn State University emeritus professor of chemistry, has held demonstrations at his State College, Pa., lab to confirm his own observations.
This might not mean anything to you, but it does to me.
Rustum Roy
is a distinguished materials scientist, with published papers going back
six decades
. Which makes him an octogenarian, yes.
He is also something of a crank - no, I take that back; he's all of a crank. His written work also includes some... odd... opinions on various social issues, vitriolic attacks on the pure sciences (physics and chemistry) and bold predictions that these computer things are just a passing fad and that we will shortly all move back into villages.
On top of that, he's a supporter of homeopathy, and has recently attached his name to some astoundingly shoddy research purporting to support that particular brand of quackery. (He may have been directly involved in the research; I don't know for certain. But his name is on the paper.)
Which is how it goes. Some crank claims some cranky thing, and some crank scientist (scientists are hardly immune from crankery) supports the claim.
What floored me is the very next line:
[Roy is also a specialist in "whole person healing" and Christian sexuality.]
Which is entirely true.
But... Did a major news organisation just look up the references of source and make an editorial aside casting doubt on his competence? Well, it looks that way to
me
.
But maybe FoxNews thinks that specialists in "whole person healing" are qualified to comment on matters thermodynamic - even though they themselves put the term "whole person healing" in scare quotes.
Or... maybe not:
[Internet commentary upon Kanzius and Roy's assertion points out that creating fire from salt water is possible by first separating it into hydrogen, oxygen, sodium and chloride, then burning the sodium. However, such a process would consume much more energy than it produces.]
Posted by: Pixy Misa at 03:48 PM | Comments (1) | Add Comment | Trackbacks (Suck)
Post contains 437 words, total size 4 kb.
Thursday, September 06

61kb generated in CPU 0.0345, elapsed 0.1463 seconds.
55 queries taking 0.118 seconds, 253 records returned.
Powered by Minx 1.1.6c-pink.