It was a bad day. A lot of bad stuff happened. And I'd love to forget it all. But I don't. Not ever. Because this is what I do. Every time, every day, every second, this: On five, we're bringing down the government.
Thursday, April 29

To Infinity And Beyond!
I also just upgraded my backup internet connection to my ISP's new unlimited plan. Even so, running flat out, it will take nearly four months to fill up Sugar.
Posted by: Pixy Misa at 03:23 PM | Comments (1) | Add Comment | Trackbacks (Suck)
Post contains 33 words, total size 1 kb.

Sugar!
Sugar arrived today. She's my third little NAS box to go with (naturally) Pepper and Salt. Pepper and Salt are Acer Easystore boxes that I bought empty and filled up with spare drives; they work so well that I wanted to get another - but they stopped making that model and replaced it with a Windows Home Server system, which apparently also works well but isn't what I want.
So I ended up ordering a LaCie 5big Network thingy. Then discovered that they don't make those any more either. Then discovered that they'd replaced it with the LaCie 5big Network 2 thingy, which is the same but three times faster. Which is a definite plus: The one problem with the old Easystore - and most of the other first-generation mini-NASes - is that it's kind of slow; for the v2 LaCie replaced the 500MHz Arm processor with a 1.2GHz model.
It arrived today. Yay!
It's apparently made of cast iron. It's a little bitty thing: 6.8 x 7.7 x 8.6 inches (from the spec sheet) but the box weighs as much as a full-size PC.
Update: Oh. I thought it was white. It's not, it's silver. Looking at the pictures on the website again, I realise that that's what they're showing - they just photographed it on white surroundings.
Update: Crap. It sounds like a can of marbles. That means it's using Hitachi drives. That sucks.
Posted by: Pixy Misa at 03:06 PM | No Comments | Add Comment | Trackbacks (Suck)
Post contains 237 words, total size 1 kb.
Friday, April 23

Thursday, April 22

Next Stop, Kurumi!
I need to spend some time on improved spam-walloping componentry, but I'm also planning to add another server into the mix, this time Kurumi. Kurumi will deliver us another 100TB of bandwidth to add to the 6TB we currently have (of which we're using 5TB, so we'll need the extra pretty soon).
Kurumi will act as an automatic media-file cache thingy; image and file downloads will be redirected to Kurumi which will act as an intelligent caching proxy. It might even do more than that if I can get a stable VPN working between the servers, but it will do that at least.
Posted by: Pixy Misa at 01:19 AM | Comments (2) | Add Comment | Trackbacks (Suck)
Post contains 106 words, total size 1 kb.
Sunday, April 18

Move Completed
We're now live on Akane (Mk III, I think) a.k.a Aoi (temporarily, because I can't have two servers with the same name).
Question: Is it any faster?
Answer: Dammit, I didn't grab any stats before the move. But this page is loading *way* faster than the last time I checked.
Answer Part Two: Oh yeah, this baby flies!
Update: All the CPanel licenses got deactivated, but it only took a couple of minutes to get them reactivated. I was half expecting that to happen anyway.
Posted by: Pixy Misa at 09:29 PM | Comments (2) | Add Comment | Trackbacks (Suck)
Post contains 87 words, total size 1 kb.
Saturday, April 17

Mio Elements
As I was going through the uninstall list removing McAfee and Norton crap from Mio, I discovered that she came with full versions of Adobe Photoshop Elements and Premiere Elements. Those aren't comparable to the professional versions, but they're still very useful - and completely free.
Nice.
Posted by: Pixy Misa at 11:24 PM | No Comments | Add Comment | Trackbacks (Suck)
Post contains 49 words, total size 1 kb.
Friday, April 16

Sony E Series Mini Review
Good: The screen is fabulous. 1920x1080 in a 15" screen means I need to scale up web pages and stuffs, but that means the text is rendered with a lot more detail and easier to read. The colours are exceptionally vivid - it might not be colour
accurate
but it sure as hell is vivid.
It's fast too. The Core i3 330M is the baby of the family, but it certainly gets the job done, and the Radeon 5650 is as fast as you'll find outside of a specialised gaming notebook.
Bad: It's built like a tank. It looks good in pictures, but it's bulkier and heavier than you'd expect. Though my opinion has certainly been shaped by a couple of weeks with Sae - it's really only a few ounces heavier than my old HP notebook. Also, battery life is estimated by Sony at 1.5 hours. Better than the 20 minutes my HP had been giving me, but still...
Ugly: The keyboard. The keys are slightly too small, slightly too close together, and skewed way to hell off center by the numeric keypad. If you plan to use it mostly at a desk - and you have small hands - it probably won't bother you.
Summary: A capable desktop-replacement notebook marred only by the evil of the numeric keypad.
Posted by: Pixy Misa at 08:27 PM | No Comments | Add Comment | Trackbacks (Suck)
Post contains 225 words, total size 1 kb.
Thursday, April 15

Moeblob Central
New notebook #2!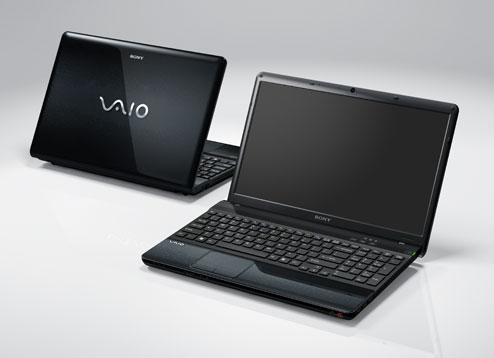 It's a
Sony E series
. Core i3 2.13GHz, 4GB RAM, 500GB disk, Radeon 5650, 1GB video RAM, 1920x1080 display.
It has everything I wanted except for decent battery life and low weight, which are what I got Sae for. I've been wavering on whether to also get this one, but I just went past the local hi-fi store and it was in stock and 10% off, and I unwavered. Sae is my lightweight take-anywhere long-battery-life notebook; this is my high-power watch-anime-play-games when-I-can't-be-bothered-getting-out-of-bed notebook.
The only question: Yui or Mio? I'd originally planned to get the white model and call it Yui, but they only had the black model in stock and it looks more like a Mio.
Then I just need to get two external disk drives - a silver one for Sae and call it Hiro, and a black one and call it either Ui or Azusa, depending...
This means that for the first time ever, I have two working notebooks. Also, one notebook-shaped object. I have heaps of old desktops that still work fine, but notebooks not so much.
Update: It's a lot bigger and heavier than Sae, and the numeric keypad means all the keys are in the wrong place; whoever decided that numeric keypads should be standard issue on notebooks should be shot. Not sure about the non-stick trackpad either.
But the screen is
amazing
. The viewing angle isn't as good as an IPS/S-PVA display, but the contrast and clarity and colour are as good as anything I've seen. Going to watch something now, let's see what I've got in HD...
Update: Well, that was weird. I spent an hour wondering if it was supposed to be as incredibly contrasty as that. Web pages and stuff were just fine, but video looked seriously out of whack. Eventually I went and started poking around in the video driver settings, and suddenly
bloopf!
and the video playback looks normal. There was some gamma anti-correction going on somewhere - but for video playback only.
Typing on this thing in bed, though, is a pig. It's too small to have a numeric keypad: you have to shift it way over to the right so that you're typing on the left, and your left hand ends up resting right on the edge of the computer. It's ergonomically craptastic. Numeric keypads on notebooks must die.
Nice screen though, now that I've worked out why Doctor Who looked funny. Only problem is, you can see the pixels and artifacts in 720p video. Need something better...
Update: Aargh. The keyboard is slightly smaller than full size.
That's
why it's such a pain to type on. There was an almost identical Sony model at the store that seemed easier to type on, and that's why - it was a 16" rather than 15" screen, so it was a little larger, so the keys were the proper size. But it was a lot more expensive and didn't have a 1080P screen - to get that model with a 1080P screen would have cost twice as much as I paid for this one.
Posted by: Pixy Misa at 03:10 PM | Comments (2) | Add Comment | Trackbacks (Suck)
Post contains 521 words, total size 3 kb.
Monday, April 05

Sony Y Series Quick Review
Okay, I've had a day to play with Sae, so here's a quick review. My model is the VPCY115FGS, which is silver and comes with 2GB of RAM and a 320GB disk drive. The model sold in the US is black, comes with 4GB of RAM and either a 320GB or 500GB drive, but is otherwise identical.
Appearance: It's certainly a pretty little thing. I think the silver model is better looking than the black version, but either way it's sleek and subtly curvy. Appearance rates as excellent.
Build: Despite being a fairly lightweight unit (1.77Kg / 3.9 lbs) it's very solidly constructed. It just feels well put-together. The level of finish is also top-rate. Build rates as excellent.
Display: The screen is very bright and sharp and the colours are very clear. The horizontal viewing angle is reasonable, but the vertical viewing angle is very narrow. You'll definitely find yourself adjusting the angle of the screen if you change positions. It has a gloss finish, so if reflections bother you, well, it will bother you. Display rates as good.
Performance: The processor is a Core 2 Duo SU7300 - a 1.3GHz chip, so it's not going to win any races. Graphics are provided by an Intel 4500MHD IGP, which is not going to win any races either. Compared to my old notebook - a 1.86GHz Core 2 Duo with GeForce 8400M graphics - it feels a little slow, but not significantly so. However, while it can play HD video (at least, 720P), in my quick test it ran one of the cores flat out, so it's almost certainly skipping some frames. It's still watchable, but it is at its limit (short of a multi-threaded video player). Performance rates as fair.
Battery life: Not tested yet; I'll find out about that tomorrow.
Sound: Unless you're buying one of those monster 18" 10-pound notebooks, you don't expect to get much out of your notebook speakers, but even by those low standards the Y-series speakers fail to impress. They're not muddy or distorted, but they are decidedly tinny. The headphone jack works fine, but even that seems to lack volume. Overall, sound rates as adequate.
Networking: The Y-series comes with gigabit ethernet, b/g/n Wifi - albeit only 2.4GHz, not dual-band - and Bluetooth. All of them seem to work. Networking rates as good.
Expansion: Up to 8GB of RAM (though that will cost you a bundle), separate SD and memory stick slots, and an ExpressCard/34 slot. Three USB 2.0 ports, one 4-pin Firewire port. That's about all you could ask for in a 13" notebook; there's not really any room for more expansion ports. The only thing possibly missing is eSATA, and I expect eSATA to get stomped by USB 3 this year anyway. Expansion rates as excellent.
Keyboard: As is becoming increasingly and annoyingly common, the Y-series has a chiclet keyboard rather than real keys. That said, the feel of the keys is fairly good, and you can type on it. I rate it as fair, however, I don't touch-type and can't rate it on that.
Overall: If the battery life holds up (Sony promises "up to" 6 to 8 hours; I'm expecting real-world use to deliver about half that), then it will make a great little lightweight notebook. Right now, I'd rate it at very good overall; we'll see tomorrow how long the battery lasts (but it can't possibly be worse than my old notebook's 20 minutes...)
Update: Just tried playing HD video with the latest version of Zoom Player, and the CPU load did nudge down to around 40%, and it looked pretty smooth. I wouldn't bother trying 1080P, though.
Update: Battery life so far is very good. 30 minutes of 720P video with the screen at full brightness used 14% of the battery. If that's vaguely linear, that's 3h:30m for video playback. 15 minutes of light use prior to that only accounted for 2% of the battery, so it could last quite a while.
Posted by: Pixy Misa at 05:15 PM | Comments (2) | Add Comment | Trackbacks (Suck)
Post contains 671 words, total size 4 kb.

Sae
13" is a bit on the small side* at least for my 43-year-old eyes. Apart from that, it's working very nicely. It's about two thirds the weight of Potemayo but feels more like half.
Just need to get another 2GB of RAM and a 640GB disk to replace the 320GB one it came with - and then reinstall everything.
Windows 7 is pretty much Vista SP2, but I'm fine with that. All my serious work is done on Linux, and for my desktop I want something pretty and responsive - and that supports a lot of games - and Windows 7 does that.
* Did you know that Firefox under Windows 7 zooms with multi-touch? Just be careful not to leave a finger resting on the trackpad, or you could end up shrinking the page down to nothing...
Posted by: Pixy Misa at 02:29 AM | Comments (4) | Add Comment | Trackbacks (Suck)
Post contains 139 words, total size 1 kb.
71kb generated in CPU 0.0238, elapsed 0.2325 seconds.
57 queries taking 0.217 seconds, 356 records returned.
Powered by Minx 1.1.6c-pink.