You're Amelia!
You're late!
Amelia Pond! You're the little girl!
I'm Amelia, and you're late.
Monday, November 24

Never Fails To Fail
Launching* in three days and the production server just dropped dead.
* At my day job.
Posted by: Pixy Misa at 06:17 PM | Comments (8) | Add Comment | Trackbacks (Suck)
Post contains 20 words, total size 1 kb.
Tuesday, November 18

Update Update Update
Six rounds of updates, plus two updates to Windows Update itself, with the attendant eight reboots, and I'm ready to begin installing SP1.
Posted by: Pixy Misa at 07:55 PM | Comments (3) | Add Comment | Trackbacks (Suck)
Post contains 26 words, total size 1 kb.

Say Hello, Nagi
While I still haven't managed to get SP1 installed (tip: DO NOT INSTALL LANGUAGE PACKS UNLESS YOU ABSOLUTELY HAVE TO), I have settled on a name.
Nagi it is.
Which raises the question: Just how many anime series are there about high-school (or middle-school) goddesses? Given that I've now used
Kamichu!
,
The Melancholy of Haruhi Suzumiya
, and
Kannagi
. Not that I really need more than three desktop computers...
Posted by: Pixy Misa at 11:25 AM | Comments (3) | Add Comment | Trackbacks (Suck)
Post contains 71 words, total size 1 kb.
Sunday, November 16

A New Era
Lina-Shana-Tanarotte-Kemeko-Index is assembled, working (as far as I can tell) and installing Fedora Core 9 for some burn-in testing.
Assembly was completely painless. Plugged everything in, and it all worked first time.
Will keep an eye out for
meteors
sharks...
Update: The Seagate 1.5TB drive delivers a transfer rate of 121MB/sec.
Whee! I remember being happy to get 100MB/sec from a four-disk RAID-0 array - and that wasn't all that long ago, either.
Update: Everything seems to be going swimmingly. Easily the most powerful computer I've ever built, and the smoothest assembly process.
And next - install Vista!
Posted by: Pixy Misa at 10:46 AM | Comments (4) | Add Comment | Trackbacks (Suck)
Post contains 101 words, total size 1 kb.
Saturday, November 15

Pixy's DLL Hell Tip Of The Day
If you are trying to build PHP 5.2 on RedHat 5 x86_64, and it fails with
Configuring extensions
checking whether to enable LIBXML support... yes
checking libxml2 install dir... no
checking for xml2-config path... /usr/bin/xml2-config
checking whether libxml build works... no
configure: error: build test failed. Please check the config.log for details.
even though you know full well that libxml2 is installed, what you need to do is
yum erase zlib-devel
yum install zlib-devel
yum install libxml2-devel
Erasing zlib-devel will also remove libxml2-devel due to the dependencies (and maybe a whole bunch of other stuff, so be careful!), so you need to reinstall it afterwards.
Posted by: Pixy Misa at 11:44 PM | No Comments | Add Comment | Trackbacks (Suck)
Post contains 108 words, total size 1 kb.
Friday, November 14

Miracle Of Miracles!
I got the MetaWeblog API to do something useful today!
God, but blogging APIs suck. Blogger 1.0, Blogger 2.0, MetaWeblog, Movable Type, Atom. Line them up against a wall and nuke the wall from orbit.
Part of the problem is that they all use XML. XML is designed for self-documenting data interchange, so naturally it's bad at both documenting and at interchanging data.
Part of the problem is that several of them use XML-RPC, which takes XML and then sucks out everything good. Field names? Who needs 'em?
The Atom API... Well, it's XML, which is bad, and it's Atom, which is just plain weird for an API, and it was killed by Blogger almost before it was born.
And then there's the new Blogger API. The client library for Python is about three times the size of the Minx code, docs, templates, and SQL definitions put together. Eek.
Posted by: Pixy Misa at 06:05 PM | No Comments | Add Comment | Trackbacks (Suck)
Post contains 152 words, total size 1 kb.
Thursday, November 13

Virtua Server
I've been looking into using
Virtuozzo
to rationalise and better control the servers that run mu.nu, mee.nu, and all the little spin-off sites. The problem is that Virtuozzo is not only a commercial product, it's an expensive commercial product, and you can't just go and grab a copy for testing. You can get a test copy if you ask, but it expires after 30 days, and I kind of didn't get it installed before it expired.
Oops.
But Virtuozzo is built on
OpenVZ
, which is open source. Since I was setting up a new development server for work today, and our developers had been asking for their own environments, and since I had an 8-core machine with 8GB of ram to play with, I thought I'd throw OpenVZ on there and see how it ran.
It ran pretty well, in fact, at least in my brief testing. Certainly, once you have it installed (which is pretty easy, but requires a reboot because it installs a custom kernel), and you've downloaded one of the prebuilt templates, creating a new container (OpenVZ's terminology for a virtual machine) is very fast and only takes a few arcane commands.
I'm going to reload Guchuko with CentOS 5.2 x86_64 and toss OpenVZ on there and see how it all runs. Only problem is that I need to download CentOS 5.2 x86_64 first, and my ISP only has the CD ISOs on their mirror.
Hmm. Since I'll need to use this as my desktop as well while I'm running on Guchuko, maybe Fedora 9 is a better bet. I already have an ISO for that.
So, install Fedora 9, load OpenVZ, create a container, install CentOS in the container, load Minx on there, and test the performance. That should keep me quiet for a few minutes...
Okay, while that's going on - Oops. Maybe I should have done a backup first. I
am
installing into a different partition, of course, and nothing
should
go wrong, but still...
Oh well. Worst case I lose a few days of tweaking on the Minx code and docs. Anyway:
OpenVZ is, of course, free. And it delivers what I need, a memory-efficient Linux virtualisation platform.
What it doesn't have is any sort of user-friendly management tools, and that's what Virtuozzo comes in. But where OpenVZ costs nothing, Virtuozzo starts at $60 per month for 3 containers. Mind you, 30 containers only costs $125 per month. It's a pity that they start the pricing so high, but they are targeting the VPS hosting market here, and most VPS hosting companies would be packing as many containers onto each physical machine as possible.
Now, the flip side of this comes if I want to offer Plesk instead of CPanel. Plesk comes from the same company as Virtuozzo, and so they work together nicely and have (I believe) integrated control panels. And Parallels (the company) offer serious discounts for Plesk on Virtuozzo over Plesk on OpenVZ (or any other virtualisation platform). Plesk on OpenVZ would start at $18 per month per container; on Virtuozzo it's just $6. So if I need 10 containers running Plesk, and 20 containers running other stuff, a Virtuozzo license has paid for itself already.
The other other problem is that 30 containers, unless they're pretty specialised containers, is really pushing it for a server with 8GB of memory; 16GB would be better. But Softlayer's cheap single-socket servers only go up to 8GB of memory. Their two-socket servers go up to 32GB, but you're looking at an extra $100 per month for the server, plus the cost of the extra memory, plus the cost of Virtuozzo, and then since your servers are now a lot more expensive you can't have as many and need to put more people on each one, so you can't just rely on clever replication routines, so another $100+ a month for a hardware RAID controller and the additional disks, and so it goes.
I'm hoping that the next-generation Core i7 servers from Softlayer will start at the same price as the current quad-cores, because they'll be able to go to as much as 36GB of memory on a single-socket server. As to when those machines will make their appearance, though, I'm not holding my breath.
Posted by: Pixy Misa at 10:10 PM | No Comments | Add Comment | Trackbacks (Suck)
Post contains 713 words, total size 4 kb.

Making A List, Checking It Twice
CPU
✓
Motherboard
✓
Memory
✓
Disk drive
✓
DVD burner, with software
✓
DVD burner, w/o software, 2x
✓
Case
✓
Power supply
✓
The rest of the parts have shipped, and should arrive today or tomorrow. Yay!
Only worry I have is the
reports of issues with the Seagate 1.5TB drive
. I might throw Linux on there first to test things out, before I go to all the trouble of installing Vista.
Update: Politeness pays. I held the lift for a guy coming in the door, and it turned out to be the courier with the rest of my goodies. Yay!
Update: Boo! The cheap DVD burners, which are the same model as the more expensive burner but are cheaper because they don't come bundled with software, came bundled with software. The exact same software. Mind you, if that's the worst problem I have with this round of orders I'll count myself blessed.
Posted by: Pixy Misa at 11:33 AM | Comments (1) | Add Comment | Trackbacks (Suck)
Post contains 161 words, total size 2 kb.
Tuesday, November 11

Lies, Damn Lies, And Motherboards
I wanted to order my new PC today, because I urgently need to rebuild both my Windows and Linux boxes.* But that nice new Nvidia-based motherboard (below) isn't in stores yet, so I was going to go with a similar Intel G45 motherboard - until I noticed, just before sending the order, that the PCI-e x16 slot was really only a x4, just as it was in the previous version, based on the old Intel G33.
Well, crap.
So I went AMD instead. The 9750 will likely be a bit slower than the Q8200 would have been, but I'm still moving from a 2.6GHz dual-core to a 2.4GHz quad-core. And it means that I can swap parts between boxes. And I was kind of thinking of upgrading my Vista box to something like this anyway, and now I kind of have.
Other than that, a 1.5TB C: drive, 3 DVD burners (so I don't have to swap disks to switch games) and 8GB of RAM. Case is a Lian-Li V600, power supply a Corsair VX-450, both the same as my current machines.
Once I have this, I can load Vista and all my software on it, then copy everything off my current Vista box and install Centos 5.2 and OpenVZ, and then copy everything off my old Linux box onto the new Linux box and then install Centos 5.2 and OpenVZ on
that
.
Or maybe Fedora 10 and Xen.
Won't that be nice?
* My Windows registry has got corrupted - probably due to the bad RAM I had earlier - and this is causing all sorts of horrible problems. Not least of these is that I've lost all my shell extensions, including Tortoise SVN, which I need for work. It's also somehow killed the Windows Installer service, conveniently preventing me from ever reinstalling Tortoise SVN.

Meanwhile in Linux land, I need to compile a current version of Pixman so I can compile a current version of Cairo so that I can start doing some work with CairoPlot and Matplotlib for Minx. Only problem is that things won't compile, apparently due to some conflict with the pre-installed (but out-of-date) version of either Pixman or Cairo. And I'd just remove those, only Cairo is used by GTK, which is the heart of the entire Gnome desktop environment, so deleting Cairo would delete about half the operating system.

All I want is one (1) working Vista box and infinity (∞) working Linux boxes. Since I'm unlikely to get the latter, I'll settle for the ability to easily create new virtual machines at will. Hence the OpenVZ and/or Xen.

Posted by: Pixy Misa at 03:29 PM | Comments (2) | Add Comment | Trackbacks (Suck)
Post contains 441 words, total size 3 kb.
Saturday, November 08

At Long Last!
A decent all-in-one motherboard for Intel chips.
It's from Gigabyte, of course. The GA-E7AUM-DS2H might have an ugly name, but it looks like a sweet board. It has built-in GeForce 9400 graphics (so about a quarter the speed of my current video card), and though it doesn't have the dedicated video ram of the GA-MA78GPM-DS2H, it still manages to pip it on 3DMark06 by 100 points.*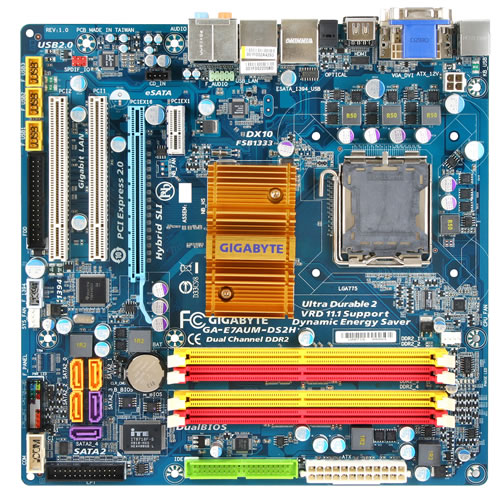 All the usual ports: 6 USB, 6 audio, gigabit ethernet, Firewire, DVI, VGA, HDMI and keyboard. No mouse, but it really is time you upgraded to USB.
Only problem is that it's brand new and no-one stocks it yet. Otherwise, that and maybe a Q8200 would make a nice new Vista box.
*
The GA-MA790GP-DS4H still edges it out: 2800 to 2400 to 2300.
Posted by: Pixy Misa at 11:22 PM | Comments (2) | Add Comment | Trackbacks (Suck)
Post contains 134 words, total size 1 kb.
73kb generated in CPU 0.0367, elapsed 0.1737 seconds.
57 queries taking 0.147 seconds, 362 records returned.
Powered by Minx 1.1.6c-pink.