What is that?
It's a duck pond.
Why aren't there any ducks?
I don't know. There's never any ducks.
Then how do you know it's a duck pond?
Monday, September 21

Tanarotte
In keeping with the convention of petite anime schoolgirl goddesses - more or less - I'm building a new server for PixyLabs and naming it
Tanarotte
.
I was going to build another little storage cube and name it Sugar (I already have Pepper and Salt), but they ran out of the Acer EasyStore systems I was using, and anything similar now costs about twice as much. Since I already had a spare case sitting around, it would only cost me about $100 more* to get a whole new server. So I did.
Details: Phenom II X4 945 95W CPU, Gigabyte GA-MA790GP-UD4H, 4 x Corsair 2GB DDR2-1066 CAS 5 RAM, 6 x 1TB Seagate 7200.12 SATA HDD, Pioneer 218 IDE DVD burner**, Lian Li PC V-600B case plus EX-23NB drive bay kit, Corsair HX-520 modular PSU. Fedora 11 64-bit plus OpenVZ.
* Well, I ended up spending another $200 to expand it from 4TB to 6TB, and another $100 to go from a dual-core CPU to quad core, so in the end it was really $400 more. Which is what always happens once you start down this route...
** The IDE DVD drive is because the motherboard only has six SATA ports and I want to install six disk drives.
Posted by: Pixy Misa at 12:35 PM | Comments (11) | Add Comment | Trackbacks (Suck)
Post contains 210 words, total size 1 kb.
Tuesday, September 08

Shiny New Toys
Just bought myself copies of
VMWare Workstation
(40% off) and
Vue 7 Pro Studio
(50% off).
Both had sales earlier this year that I missed, and kicked myself for missing, and then this morning I got emails about the new sales, and
pounced
. Like a pouncy thing.
Now I just need to find some cheap 4GB unbuffered DDR2 DIMMs.
Update: Or a good Socket 1156 workstation motherboard and some cheap 4GB registered DDR3 DIMMs.
Update: Or a dual Xeon 5500 motherboard and a whole lot of money.
Posted by: Pixy Misa at 03:33 PM | No Comments | Add Comment | Trackbacks (Suck)
Post contains 90 words, total size 1 kb.
Wednesday, September 02

Not Exactly Hot-Swap
Popped the pooped drive out of Pepper and swapped it for a new one.
Logged in to the web interface and the only option it gave me was to format the drive. Whether that means "format the new drive so I can rebuild the array" or "format everything so I can restore 2.4TB of files" I don't know yet. But only the light for the new drive is blinking right now, and from the progress meter I should know in about 15 minutes.
Update: I am happy and sad.
Happy because it is doing an automatic rebuild. So I didn't need to spend 3 days backing everything up. It only took 5 minutes to swap the drive (power off, pop the cover open, remove the backplane, swap the drive rails, replace the backplane and cover, and power on). And the main light glows red when there's a hardware error, so you can't miss it. Pretty solid value for $300.
Sad because now that I know it's real, proper RAID, I'd buy another one if I could, but you can't get them anymore. There are similar small storage appliances around like
this
or
this
or
this
, but they all cost rather more than $300.
The one problem with the Acer EasyStore (which is what Pepper and Salt are) is that a 500MHz Arm CPU can't handle RAID-5 and file serving at anything like the speed of the disks or the network. I'll forgive that in a cheap, convenient, reliable little box. But those three similar boxes also appear to have similar hardware and similar performance, but at a not-at-all similar price.
I might end up buying one of them anyway, but not for another couple of paychecks.
Update: Now
this
is an interesting device.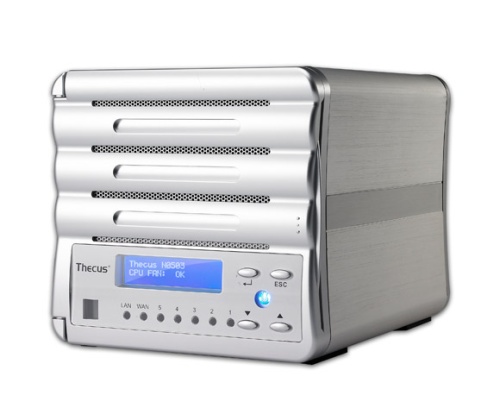 The Thecus N0503 ComboNAS
It has an Atom processor instead of an Arm, and even the slowest Atom chip is at least twice as fast as the Arm in the EasyStore. It has 1GB of memory (standard SO-DIMM) compared to 128MB. Dual gigabit network ports (but no WiFi). Supports HTTP, NFS and iSCSI as well as CIFS and FTP. And BitTorrent too. And a choice of ext3, XFS, and ZFS. And it's an iTunes server (as is the EasyStore) and a USB print server (which the EasyStore is not).
And it has a switchable drive cage that can support three 3.5" drives mounted horizontally or five 2.5" drives mounted vertically. That's really kind of neat.
Bit of a shame that it can only hold three 3.5" drives, but the EasyStore, being an older design, only supports drives up to 1TB, so three 1.5TB drives in the Thecus will give me the same available capacity (RAID-5) for about 10% more cost on the drives. Or about 20%
less
than what the drives in Pepper cost when I bought them.
The unit itself costs about twice as much as the EasyStore's clearance price, but it has a huge advantage over the models from Western Digital and Buffalo and LaCie: Thecus don't force you to buy your drives with the unit at grossly inflated prices.
I think I've found Sugar.
Indeed, this might also be just the thing for those with an ageing Cobalt Qube handling web server duties. It doesn't have all the functions of the Qube (like email) but it does support dual networks and configurable security.
Since it's clearly based on Linux or BSD, it will be interesting to see what happens once the community get their hands on it. With a full gigabyte of memory and an Intel-compatible CPU, there's nothing to stop you running a full modern Linux or BSD installation, at least in theory.
Update: It supports RAID 0, 1, 5, 6, and 10, though for 6 and 10 you'd have to be using 2.5" drives. You can expand your array by replacing the drives one-by-one with larger ones and allowing it to rebuild in between. You can migrate between RAID levls. It supports ZFS snapshots.
It's stackable, so you can expand it by just plugging more units into the network and setting them as slaves. You can add USB or eSATA drives for backup or additional storage. And it can mount ISO images and export them as drives, but then so can Daemon Tools.
And it even has an expansion slot - apparently PCI - which will fix the lack of WiFi nicely.
Posted by: Pixy Misa at 07:24 PM | Comments (8) | Add Comment | Trackbacks (Suck)
Post contains 733 words, total size 5 kb.
66kb generated in CPU 0.0243, elapsed 0.3813 seconds.
52 queries taking 0.3625 seconds, 346 records returned.
Powered by Minx 1.1.6c-pink.