Dear Santa, thank you for the dolls and pencils and the fish. It's Easter now, so I hope I didn't wake you but... honest, it is an emergency. There's a crack in my wall. Aunt Sharon says it's just an ordinary crack, but I know its not cause at night there's voices so... please please can you send someone to fix it? Or a policeman, or...
Back in a moment.
Thank you Santa.
Monday, June 25

Tagged And Released
Wickedpinto tagged me:
Each person starts with 7 random facts/habits about themselves. People who are tagged need to then report this on their own blog with their 7 things as well as these rules. They then need to tag 7 others and list their names on their blog. They are also asked to leave a comment for each of the tagged, letting them know they have been tagged and to read the blog.
Well, okay then:
I have broken every major bone in my body, with two exceptions.
My favourite sport is parasailing. I do this every Sunday without fail, except when I am actually in traction. (See 1.)
I own a 6-foot teddy bear named Inigo Montoya.
I once ate an entire Thanksgiving turkey

without gravy

.
I am a tetraploid mutant, having 92 chromosomes. I also have two livers.
Despite that, I am unable to metabolize alcohol. Any alcohol I consume remains permanently in my system, like dioxins do for other people.
When asked to provide random facts about myself, I invariably lie.
Posted by: Pixy Misa at 09:52 AM | Comments (7) | Add Comment | Trackbacks (Suck)
Post contains 169 words, total size 1 kb.
Wednesday, June 20

New Design
I've been working with our graphic designer on a new template design for mee.nu, and this is an example I've worked up: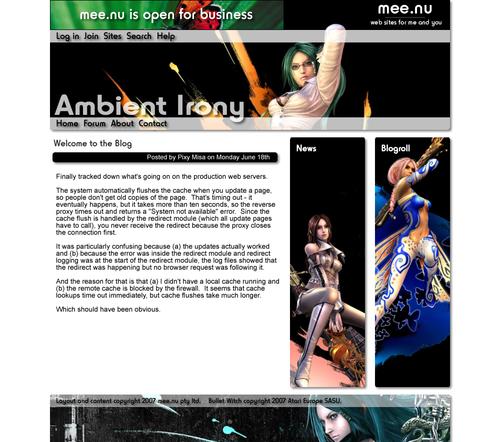 more...
Posted by: Pixy Misa at 02:39 AM | Comments (17) | Add Comment | Trackbacks (Suck)
Post contains 92 words, total size 1 kb.
Friday, June 15


Ready To Roll
That banner up top is the draft version of our ad-supported site banner. Yeah, it's a bit too busy, particularly on this site; I'll be handing it over to our designer who's working on the new standard templates to produce a nice clean version.
Posted by: Pixy Misa at 01:57 AM | Comments (4) | Add Comment | Trackbacks (Suck)
Post contains 47 words, total size 1 kb.
57kb generated in CPU 0.2, elapsed 0.4617 seconds.
54 queries taking 0.3534 seconds, 223 records returned.
Powered by Minx 1.1.6c-pink.